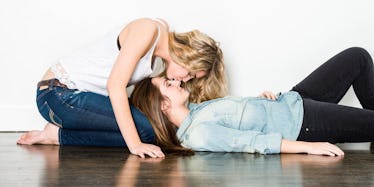 17 Things Girls Are Thinking When Struggling Through A Group Exercise Class
Stocksy
Group exercise classes are the best way to motivate yourself: Not only are you surrounded by others who feel the same way you do, but you have some scary-ripped drill sergeant barking at you to do burpees and jumping jacks.
It's a lot more motivating to have someone screaming in your sweaty face than it is to make yourself over the 4.0 mph mark on the treadmill.
Working out is hard and, to take a note from my girl Jennifer Lawrence, anyone who pretends to enjoy exercise is a liar.
The thoughts you have in a group exercise class somewhat differ by the actual activity you are doing (e.g. spin vs. weight lifting), but, for the most part, they center around hunger and frustration.
What are we all thinking during this excruciating hour of our lives? Well...
1. Okay I got this, I got this
I'm ready; I've got my brand new sneakers on and am feeling determined and motivated. Watch out world, no one can stop me now!
2. Where is that girl's shirt?
Um, what? Why is that girl essentially wearing a bra and underwear? The day I feel comfortable exercising in that "outfit" is the day I skip the gym altogether and indulge in some not so healthy foods.
3. That bitch is such a show-off
Okay, lady, I got it, you've been coming to this class every day for the past six months, but do you really need to stand dead center and make the rest of us look bad? It's hard enough trying to keep up with the instructor, but now I have to keep up with you, too?
4. Ugh, I hope my Lulu's aren't see-through
How many times are we going to stretch forward and touch our toes? I'm pretty sure the girl behind me is enjoying a nice view of my ass and thong... Damn you Lulu, you would think for $82, these leggings wouldn't be so revealing.
5. Did that girl in front of me just fart?
Wow, that is just plain disrespectful. At least aim your body at a different angle so I am not subject to your terrible bodily odors. It's bad enough you bent over in front of me, but to also fart in my face? That is just rude.
6. It's only been 15 minutes, what the f*ck?
Phew, made it through the warm-up... wait? There's more? How has it only been 15 minutes? I feel as if I've been in here for at least an hour... I'm calling BS on this.
7. I need water, a towel, a sandwich and a nap
I. Am. Dying. I need Jimmy John's and my bed. And Netflix. And an IV. Do people actually enjoy this sh*t? There's no way...
8. Hmm, what am I going to eat for dinner?
The only reason I am even taking part in this awful class is so that I can feast when I get home. I mean, isn't that the entire point of exercising? To eat...? No, that can't be right, can it?
9. How have only 30 minutes passed?
I made it past the 15 minute exhaustion mark, but how has it only been 15 minutes since then? This is some serious torture. People actually come back and do this every single week? HOW? They must be on some sort of drugs.
10. I think I'm going to pass out
Now this is just getting ridiculous. How is this that hard? I am definitely much more in shape than half these people in this room, but for some reason, I need an inhaler... or three.
11. I'm going to look so skinny tomorrow
I'm finally feeling motivated again. July 4th is in a week, I just dropped $167 on a bathing suit and I'm ready to rock it. One set down, two to go. Got this, I'm going to wake up feeling great tomorrow morning. Just call me Adriana, why don't you...
12. How can that girl kick her leg so high?
Does this bitch think we're at Cirque du Soleil tryouts or something? This ain't the Rockettes either, my friend. Take it down a notch.
13. I wonder if anyone else is as hungover as I am
Am I the only one who is trying to burn off the calories I drank last night? I can't be the only one, can I? Am I an alcoholic? Do I care? I wonder what I'm doing tonight...
14. Okay, I need a break
Will anyone notice if I just sit down for a moment? Hmm, I can always fake having to tie my shoes, that'll buy me at least a solid minute or two. How can these people last this long? I've been gasping for my breath for the past 10 minutes, at least.
15. Maybe if I were actually getting laid, I'd enjoy cardio
Why else would you want to work on increasing your stamina? It seems I exercise for all of the wrong reasons... or the right ones, but that depends on how you're looking at it.
16. Nah, I probably would still hate it
Who am I trying to kid? There's no rational reason to enjoy cardio. The only people who ever "liked" this form of exercise were those kids in P.E. who treated gym class like it was the Olympics. And even then they were just showing off.
17. No, seriously, when is this sh*t going to be over?
I can't feel my legs. Or my abs. Or my arms. Has it been an hour yet? I'm starving...
Photo credit: Vanity Fair