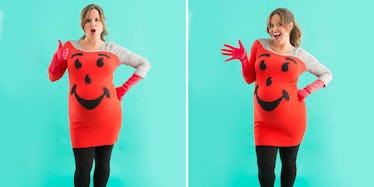 10 DIY Maternity Halloween Costume Ideas For Pregnant Women
The world of maternity costumes on the Internet is an interesting one. There are some exceptionally punny and clever ideas out there, but there are also some extremely creepy ones. And what do they all have in common? Mediocre execution and surprisingly low-resolution photography.
So here we are, doing what we do best — serving up 10 more maternity costumes you can DIY this Halloween. Last year, we called on Brit herself to model maternity costumes as Juno, a gnome, a troll doll and more. This year, we roped in our commerce lead Cameron Rivinus, just a week before she headed out for maternity leave! That's right — we shot these 10 costumes in APRIL. That's how obsessed we are with Halloween. You can thank us later.
Major props to expert DIY'ers Misty Spinney and Kelly Bryden for bringing each of these fully-baked looks to life.
Okay mamas-to-be (and friends of mamas-to-be), here we go.
1. How to Make a Mummy Maternity Costume
In true Halloween form, we've got a classic mummy costume for mommy. Or if you're British, a mummy costume for mummy.
What you need: - white leggings and a white shirt - a white wig - gauze - lace (if you want to get fancy)
Simply roll gauze and lace around your body to get the look of the dead. To add some girlish flair, tie a piece of lace around your wig to create a Cyndi Lauper-inspired head band.
2. How to Make a Christmas Tree Costume
Ah, how we love mixing holidays. Though a christmas ornament would also be cute for a pregnant gal, we went for the whole tree. How could we resist a star headband?
What you need: - fitted green dress, brown pants and brown shoes - paper garland - a headband - glittery gold foam paper - hot glue
Throw on your clothes and then drape the paper garland as you would across a tree. Hot glue the garland in place or use pins if you want to wear the dress post holiday. To make the tree topper, cut out a star from the gold foam paper and glue it to your headband. Don't be afraid to bust this out around Christmas if you won't be showing until then. We support dressing up for all holidays.
3. How to Make a Fish Tank Costume
Wouldn't it be cool if you could watch the baby like you can watch fish in a tank? No? Is that weird? For this costume, we filled Cameron's belly tank with colorful sea creatures.
What you need: - black leggings and a black dress - teal lycra - colorful felt - fabric scissors - Sharpie - hot glue
Cut out a circle of lycra to create your tank. Then draw and cut out felt fish, coral and other goodies you'd find in a fish tank. Hot glue them to the lycra and then adhere that to the belly of the dress. Make sure to practice your best fish face for this one.
4. How to Make a Burrito Baby Costume
We couldn't help ourselves with this punny costume. Most of us have experienced the classic burrito baby after inhaling way too much food, quite possibly including a burrito.
What you need: - gray or black leggings and t-shirt - colorful felt - a Sharpie - fabric scissors - hot glue
Much like the fish tank, for this costume you will cut out a felt baby, felt food and, most importantly, a spaghetti umbilical cord. Hot glue these pieces to your tee, and you've got yourself a burrito baby.
5. How to Make a Khaleesi Maternity Costume
Okay, so we know the Mother of Dragons didn't have her dragons while she was pregnant, but don't you think the stuffed animal really makes the outfit?
What you need: - long blonde wavy wig - taupe dress - silver faux leather - fabric scissors - small stuffed dragon friend - pins
Head to a thrift store and search for a brown-ish flowy dress. If you can't find one that has the layered look, you can add some extra fabric with hot glue. Cut a long strip of fake leather and wrap it around your chest and back. Pin it in place. Add small leather arm bands to complete the outfit. To style the wig, pull back each side to create a low half ponytail. Secure it at the nape of your neck.
6. How to Make a Pregnant Kate Middleton Costume
In the wise words of Lorde, "we'll never be royals," but we can certainly pretend this Halloween. Gorgeous as ever, Kate Middleton rocked the baby bump with class. And so can you!
What you need: - high heels - black leggings - a polka dot dress (or other royal thrift store find) - a blazer - hat fascinator - feathers - zig zag trim - hot glue - fabric scissors
The main DIY in this costume is the hat. All you need to do is snip the trim so that it fits the hat fascinator. Glue the trim and feathers in place and let them dry. Style your hair with loose waves and wear minimal makeup for a true Kate Middleton look.
7. How to Make an Emoji Maternity Costume
It took us a while, but we finally came up with an international language: emoji. So to celebrate our love and happiness for the baby-to-be, we created a heart-eyed happy face emoji costume that says it all.
What you need: - black leggings and a black dress - yellow, red and black felt - fabric scissors - hot glue - red heart sunnies!
Not sure you can cut out a perfect circle? Grab a pot or a wok or a large bowl and trace it on your yellow felt. Cut out your circle, two heart eyes and a moon-shaped smile. Glue them together and then adhere them to the front of your dress. You've got to get some heart sunglasses to really perfect this look!
8. How to Make a Cookie Monster Costume
Cookie Monster has a cute little belly, right? This costume is going to keep you cozy on Halloween, which is perfect for the cooler weather we often get at the end of October. Plus you get to carry around cookies. And no one is going to complain about that!
What you need: - blue fleece onesie - blue wig - black and white felt - fabric scissors - hot glue - Circus animal cookies!!!
This one is super easy. Just cut out two eyes and adhere them to your wig. Make sure they are askew. Cookie Monster's eyes are always a little googley. Last step: eat cookies.
9. How to Make a Gumball Machine Maternity Costume
This might be one of our all time favorite costumes. Cameron's belly is the perfect shape for a gumball machine.
What you need: - red skirt and white shirt - red wig - black and white felt - colorful pom-poms - fabric scissors - hot glue
Notice how so many of these costumes require the same ingredients? You can make so many amazing outfits with a little bit of felt. For the gumball machine, cover your belly with pom-poms. Vary the colors as you go so that it looks realistic. Add the bottom section of the machine by cutting out a rectangle of white felt and adding the price, the lever and the opening for the gum. Pop on a red wig and you've got this costume in the bag.
10. How to Make a Kool-Aid (Wo)Man Costume
Last but not least, it's everyone's favorite juice mascot: the Kool-Aid man! Rounded from his pitcher body, this is an obvious choice for a pregnant gal.
What you need: - black leggings - red long-sleeved dress - red gloves - silver spray paint - painter's tape - black felt - fabric scissors - hot glue
To get the look of the pitcher, we took a red dress and spray painted the collar and left sleeve silver. Mimic the curves of the pitcher with painter's tape so that you get a clean line. You can always go in with a small paint brush if the paint isn't exactly perfect. Cut out eyes, eyebrows, a nose and a mouth from your black felt and glue it to the front of the dress. Put on your red gloves and some red lipstick and you're good to go!
That's a wrap! Ten amazing costumes to inspire you for the upcoming holiday.
DIY Production and Styling: Misty Spinney and Kelly Bryden Hair and Makeup: Misty Spinney Photography: Chris Andre Modeling: Cameron Rivinus (plus baby Ned)