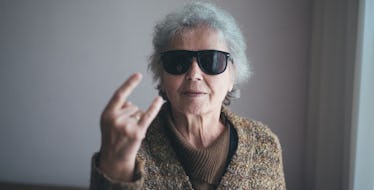 10 Discreet And Luxurious Vibrators That Will Render Your Man Useless This Summer
Stocksy
From "Grease" to JT, we girls have been sold the idealized and storied summer love. He shows up, hair blowing in the wind, tan and chiseled, shirt billowing and the like, and we swoon – as women are prone to do – faint, or in some way leave ourselves vulnerable to his romantic gestures, only to lose it all at the first signs of autumn!
Homie don't play that.
Ladies, it's time we take summer love into our own hands – literally. Let's get ours and, if anything, let the men beg for scraps.
So let's forge the new season's romance with lovers that will always get the job done. Yes, I'm talking about the sleek luxury of intimate toys and massagers that won't quit until you're more than satisfied. The kind of lovers you can control by remote and turn off with the click of a button, and that are compact and discreet enough to come with you whenever you'd like – and stay at home when you ask them to.
Who needs the Fabio of fiction when these fancy toys have all the right buttons and all the right modes to make your summer more sizzling than any fumbling-fingered friend you encounter at the beach?
But if we can take anything from our 50-year-old soul sister caught with 60 plus sex toys on her vacay to Mumbai, sometimes a little discretion goes a long way.
So we here at Elite Daily have decided to compile a solid list of the most discreet and luxurious toys to take on your summer holiday that won't ask for a cuddle afterwards, interfere with your other summer dalliances and are -- most importantly, for your assured aquatic activities – absolutely waterproof.
The TSA won't blink an eye when you roll through with one of these lipstick lookalikes. It's as sleek as it will make you; this little number is perfect for the kind of woman who values glamor when it comes to her pleasure. The bullet packs a punch, with four speeds and three separate patterns of vibration. Perfect to toss in your bag, only to have it resurface at any opportune moment, the hot-pink accessory is sure to provide a tease for yourself or for some combined partner play. Admittedly, the tiny toy might not be the most outrageously orgasmic endeavor, but both its compact case and utterly discreet, barely-there sound surely keep Kandi Kisses on the list for must-have summer loves.
2 Squirts
Kandi Kisses, $69, Bedroom Kandi
This hot pink, fruity delight joins us as the only dildo to make the list. So for obvious reasons, it has its perks. With its innocent banana shape, the vibrating fruit is easy to overlook when it comes to traveling or keeping around the home. With a removable vibrating interior, the banana transitions from day to night (from vibrator to dildo, not that they should be mutually exclusive). Such versatility is the key to what separates this puns-galore sex toy. It'll be sure to drive you bananas with its sleek curvature, designed to hit all the right (G) spots.
2 Squirts
Sex-A-Peel Vibrator, $45, Babeland
Yet another inconspicuous toy from Bedroom Kandi, Make Me Over masquerades as a compact and blends in perfectly with the contents of your makeup bag. With an easy to slip on powder puff, decorated with studs to increase the stimulation, Make Me Over is, effortlessly, one of the most unconventional toys on the list. Few toys achieve the same ingenuity or discretion, affording unique stimulation with the touch pad providing varied textures to deliver a versatile massage. With seven different patterns and speeds and one of the broadest surfaces I've ever encountered, Make Me Over is a clever and cute way to have a little fun.
2.5 Squirts
Make Me Over, $79, Bedroom Kandi
There's not a toy more conducive to partner play than these alluring vibrating panties. With a sleek bullet slipped into the crotch, your everyday activities are about to get much more interesting. Lace up these bad boys by tying the girlish ribbons at the sides. The see-through undergarments are undeniably sexy, even without the fantastic vibrating addition. The remote leaves it up to you or whomever you trust it with to control the experience. The ten-function vibrating bullet can be controlled from up to 20 feet away, making just about any occasion a daring meander into your own pleasure. There's something entirely delicious about the hands-free experience, especially when things are out of your control.
3 Squirts
Turn Me On Vibrating Panties, $50, Amazon
The third in a series of delectable personal massagers, JimmyJane delivers on this sleek, stylish design. Resembling something of a tongue, the vibrator encompasses all the flexibility of this sublime organ, mimicking its touches and filling in on its weaknesses. The seamless transition from its four vibration modes and five separate power levels provides for an orgasmic experience you won't soon forget. The shape of the Form 3 is malleable, welcoming a myriad of angles that each provides infinite sensations and the toy is great for partner use, hands-free. Its soft design and untraditional shape, along with its subtle sound, won't be setting off any red flags in your luggage this summer.
3 Squirts
JimmyJane Form 3 Vibrator, $65-72, Amazon
For the party girl who refuses to leave the club behind, OhMiBod provides the perfect rhythmic engagement with the beats that get you going. This unique design fits and contours its vibrations to your song choice. Building on the vibrating panties, OhMiBod slips this design into a lacy thong to match your location and mood. With five intensity levels, OhMiBod shows it's ready for the town or for more discreet places -- like dinner or an airplane…any music-loving girl won't hesitate to give her partner the remote for a new kind of shuffle.
3.5 Squirts
OhMiBod Club Vibe, $45, Amazon
Building on the ever-popular bunny design, JimmyJane strikes gold in the second of its series, with a cool vibrator that just won't quit. This bold new design brings a second pole to the playing field for targeted teasing of your most sensitive areas. Form 2 goes where other vibrators only hope to, doubling the pleasure, doubling the fun. Its cute shape is what separates the Form 2 from the pack, as each ear is internally powered for individual and powerful stimulation. With four vibration modes and five power levels, the Form 2 won't let you down anytime soon.
4 Squirts
JimmyJane Form 2, $60, Amazon
The Alia is a vibrator so pretty that you'll want to wear it around your finger – and why not? Never take it off since this inconspicuous egg, available in beautiful colors, is an accessory to be boasted. Despite its harmless appearance, Alia packs a punch, with its massaging capabilities reaching all along its exterior surface. With close to silent vibration patterns and five levels to choose from, Alia does its job in style. Featuring a relatively intuitive means of gauging the power and intensity you want most, the Alia shifts modes smoothly, giving you the best kind of experience you could ever want.
4.5 Squirts
LELO Alia Intimate Massager, $119, Amazon
This bad boy comes complete (and so will you) with a remote control for both doubles and singles matches. The extension is optional, giving you a twofold vibration masterpiece. Try it out with someone you trust or throw caution to the wind and hand that baby off to anyone with a hand and a pulse. Smooth to the touch, the Lyla 2 massager surpasses its vibrating contemporaries with eight stimulation modes and a total of 16 speeds – an incredible supply of pure pleasure in your hands. Not to mention that this intuitive vibrator adjusts itself with the tiniest of movements and inclinations from your remote control, so you'll never have to fake again.
4.5 Squirts
LELO Lyla 2 Bullet Massager, $139, Amazon
For the ladies tired of the middleman, there's something refreshing about the kind of vibrator that functions as an extension of yourself (or whomever else you deem lucky enough for the job). Hello Touch takes self love to a whole new level, heightening every sense the fingers enjoy. With the absolute free form that fingers allow, Hello Touch leaves no contour unfulfilled. With the added advantage of access to the interior space, Hello Touch delves into the situation with a vibrating precision only afforded to a few other vibrators that are weighty or clunky to touch. The two pads fit on the tips of two fingers and can be used as powerfully or delicately as one could want, increasing the pleasure with a woman's best friend – her hand!
5 Squirts
JimmyJane Hello Touch, $46, Amazon
Kgazm | Elite.