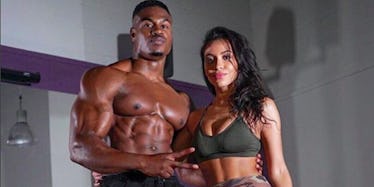 World's Fittest Couple Reveal Simple '90 Percent' Diet Trick Used To Stay Toned
Instagram
Look no further if you need extra motivation to go to the gym tonight.
Keep on that grind and you could have a dream body like these Instagram stars, who might just be the fittest couple in the world.
Simeon Panda, 30, and Chanel Brown, 24, are the very definition of fitness goals AND relationship goals.
I mean, just LOOK at them.
I'm pretty sure this is what humans are supposed to look like.
Unsurprisingly, the couple from London have an intense workout and diet regime that people with full-time jobs have no chance of matching (fine, I'm jealous, how can you tell?).
So what's the secret behind their insane bodies?
Simeon told MailOnline the pair have matching diets — although he eats bigger portions — and they keep a very close eye on what they eat.
He said,
Our diet is healthy 90 percent of the time. Our regular meals are high in protein with whole grain carbs and a substantial portion of vegetables. A typical meal could be a power bowl of stir fried diced chicken breast in olive oil, with butternut squash, beetroot, kale and whole grain brown rice.
90 percent, huh?
I would LOVE to know what the other 10 percent is like. I can't imagine 10 percent of your diet is pizza, ice cream and burgers when you're rocking a bod like this:
Simeon added,
Going to the gym is as fundamental to my day as a shower.
These days, life is pretty good for the couple — Simeon owns a clothing brand and travels the world going to fitness expos, and Chanel runs a beauty brand and lifestyle blog.
Oh, and they have a combined following of eight million on social media.
So if you clean up your diet and manage to drag your ass to the gym — and keep doing it every day for, I don't know, five years — this could be you!
Citations: Londoners Nicknamed Fittest Couple In The World (Mail Online)