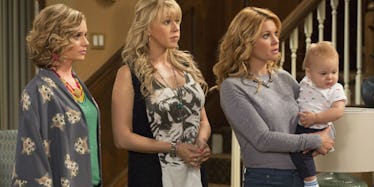 This Workout Is Perfect For When You're Binge-Watching 'Fuller House'
Warner Horizon Television
Are you a huge fan of workouts and "Full House?"
I know. It's a weird combination. But if you happen to be worried about getting enough exercise while watching "Fuller House" (hitting Netflix on February 26 at 12 am PST/3 am EST), I've got great news for you.
Our friends over at Reebok (who also happen to be big fans of binge-watching) put together the perfect exercise routine to help you get a workout in while you binge-watch. Don't believe me?
Check out these moves, demonstrated by Reebok instructor Kaisa Keranen, and use them as you follow the adventures of the Tanner family (and Kimmy Gibbler, of course).
Think of it like a drinking game, but with exercise. Ready for this?
1. Every time Stephanie says "how rude," do two squat jumps.
2. Every time Michelle is referenced, do three chair dips.
3. Every time Joey says "cut it out," do three pushup stretches.
4. Every time the "special music" plays, do two down dog knee-to-elbow touches.
5. For every shot of a dog  (or reference to Comet), do three rotating mountain climbers.
6. For any appearance of Mr. Woodchuck, do four twisting boat holds.
7. Every time Stephanie throws a jab at Kimmy Gibbler, do three scissor jacks.
8. Every time the studio audience says, "Awww," do five star planks.
9. For every reference to bygone '80s or '90s pop culture, do three star jumps.
10. For every time Jessie and Becky kiss, do five plank twists.
Have fun, and happy bingeing!