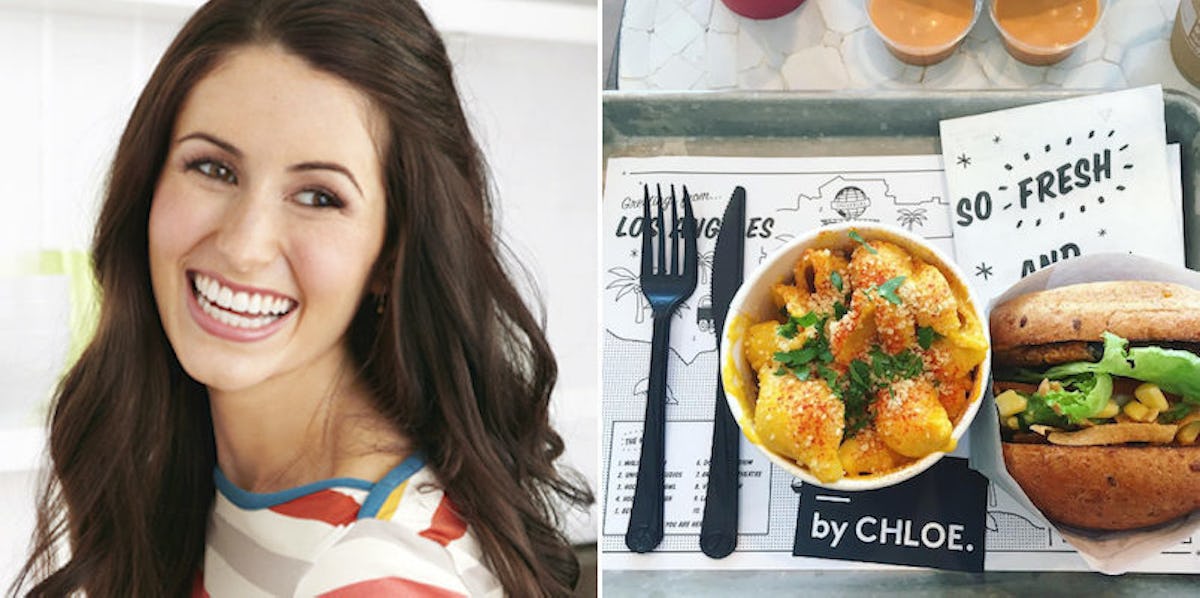 What A Vegan Chef Eats In A Week, According To The Founder Of By Chloe
Chloe Coscarelli is a busy lady. When she's not creating food for By Chloe, her restaurant, the vegan chef is releasing cookbooks. (She has three.)
Does the name ring a bell?
Even if you haven't been eating Chef Chloe's food, you may have seen her on Food Network. In 2010, the 22-year-old chef became the first vegan champion of a TV food competition when she scored the win during "Cupcake Wars."
How do you like them apples? No, literally, how do you like them? She probably has a recipe you haven't tried yet.
With a packed schedule and a business to run, I wondered how Chloe fuels herself during the week. Luckily, she kept a food diary from Saturday to Tuesday and documented just how tasty vegan food can be.
Read on to get the By Chloe experience in her own words.
Friday: The breakfast isn't Instagram-worthy, but it's tasty.
"I'm headed to Boston this morning to attend my friend's wedding. Before I leave for any trip, I like to have a hearty meal so I'm not inclined to grab something nutrient-deprived while I'm in transit.
Today, I made -- or attempted to make -- myself a vegan omelet. The flavors were good, but it didn't turn out so pretty. I need to work on it more!"
"Later on in the day, we went to my friend's rehearsal dinner. She had the restaurant prepare a vegan pizza just for me, but I was nice and shared some slices."
Saturday: Potatoes and beans make a wedding even better.
"After a quick workout session at my hotel, I met up with some friends at a tapas restaurant for lunch. These patatas bravas were delicious. (And they're also usually the safest thing for a vegan at a Spanish restaurant!)
They were perfectly crispy on the outside, with just the right amount of salt. They also came with a spicy tomato dipping sauce that gave the dish a nice kick."
"Before we started getting ready for the wedding, I wanted something light to hold me over. I grabbed a Health Warrior Chia Bar out of my bag.
I always grab a bunch of these when I'm in line at Whole Foods, and I try to keep one in my bag for a quick, healthy snack."
"In-between dancing to great music at the wedding, I sat down to enjoy a beautiful vegan plate the restaurant prepared for me. It was a white bean and spinach cake with purple potatoes, beets and greens."
My friends have always been SO amazing with accommodating my vegan diet at their weddings. I've been truly spoiled this season.
Sunday: Sushi rounds out an indulgent day.
"When I woke up, I found a yoga class at Exhale Spa. There's nothing like a good morning sweat session.
To get some inspiration on where to eat, I asked my fans on social media to tell me their favorite vegan spots in Boston. Veggie Galaxy, a vegetarian and vegan diner, came highly recommended, so we went there for brunch."
"I ordered the Red Pepper Benedict, and my boyfriend had the Raspberry-Stuffed French Toast. We had such an amazing meal. They're definitely doing vegan right!"
"Following the train ride back to NYC after a glutinous trip, I opted for some Japanese food.
Hey, when in doubt, go with avocado rolls!"
"I was exhausted from the weekend festivities, so I wanted to keep things relatively low-key for dinner.
I whipped up a quick, homemade spaghetti marinara. I like to make my sauce with San Marzano tomatoes and a touch of roasted beets for sweetness."
Monday: Banana "nice" cream cures a sweet tooth.
"I woke up early this morning, and I was ready to take on the week. Since I had some extra time before I needed to head out for the day, I made this vegan breakfast frittata all for me! It hit the spot."
"I followed breakfast with #ohsofancyfries from By Chloe. It's our secret menu item and one of my favorite things to order."
"When I got home, I was craving something sweet, so I made a batch of banana and blueberry 'nice cream' in my food processor. My toppings typically depend on what I have around the kitchen.
Tonight, I decided on homemade granola, coconut, chia and raspberries. It's perfect for breakfast, a snack or dessert."
Tuesday: It's the last day of the food diary, but I was too busy to cook.
"This morning, I had an early wake-up call to head to Rockefeller Center and cook on 'The Today Show.'
My breakfast meant picking at what I made on the plaza: orecchiette in no-cook spinach sauce and mini potato skins stuffed with avocado salsa. No complaints here!"
"My week isn't complete without a visit to 00 + Co in the East Village.
Tonight, some friends and I ordered vegan pizzas: one with eggplant, another with arugula and the other with a unique, delicious carrot puree."