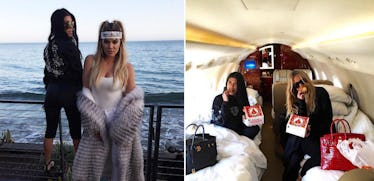 This Is What 14 Of Your Favorite Celebrities Indulge In On Their Cheat Days
Guys, celebrities are real people who have cheat days too. OK, maybe for some of us, every day is a cheat day. But that's alright. Healthy eating is a long-term lifestyle thing, and we really don't have to track every single meal.
For me? My favorite things to eat on cheat days are peanut M&M's and/or a double burger with crinkle cut fries and a black-and-white milkshake from Shake Shack. I'm a girl who knows what she wants.
If you're running out of cheat day inspiration, here's what your favorite celebrities are indulging in.
Zac Efron
Zac Efron likes to eat steak, potatoes, mac and cheese, bread and brick cheese when he has a cheat day. Yes, even with a body like that, cheat days are necessary.
Kourtney & Khloé Kardashian
Kourtney and Khloé go for Popeyes on their cheat days, especially when riding a private jet, of course. They really know what it means to live it up. And honestly, it could be worse. At least there's some protein in Popeyes.
Taylor Swift
Taylor Swift is all about the chicken fingers and vodka-diet-coke on her cheat days. Girl, I feel you. Chicken fingers are the bomb.
Dwayne 'The Rock' Johnson
Dwayne Johnson takes his cheat days very seriously with chocolate chip banana pancakes as well as a plate of steak. And by the looks of it, he probably doesn't want to share.
Jennifer Aniston
Jennifer Aniston can ignore the sweet stuff like candy, but on her cheat days, she craves salty snacks like mixed nuts.
Ashley Greene
Ashley Greene goes for the combo of wine and chocolate on her cheat days. You really can't go wrong with that mix.
Chris Hemsworth
Even though Chris Babesworth Hemsworth looks like a superhero, he's just like all of us. On his cheat days, Hemsworth likes to gobble up pizza, hamburgers, beer and sugary stuff.
Gwyneth Paltrow
Even Gwyneth Paltrow, Queen Of The Cleanse, cheats. She goes for french fries, cheese and martinis. Cheers to that, Gwyneth.
Hugh Jackman
Hugh Jackman is loyal to Tim Tams on his cheat days. He even has a special box for them that says "Do not open until cheat day."
Kate Hudson
Kate Hudson goes for guilt-free desserts like gluten-free cookies, dairy-free chocolate and coconut ice cream bars on her cheat days.
Lindsay Ellingson
Yup, Victoria's Secret models have cheat days too. Lindsay Ellingson loves to eat cheeseburgers with cheddar and avocado with a side of french fries. Classic.
Jessica Biel
Jessica Biel knows what's up and likes to eat donuts and pizza on her cheat days.
Katy Perry
And just like I'm loyal to Shake Shack, Katy Perry loves to pig out at In 'N' Out Burger.