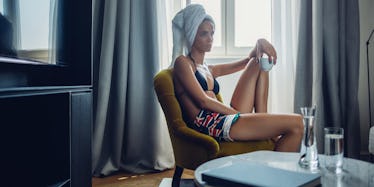 10 Wellness Tips You Should Remember To Pack While Prepping For Your Trip
Traveling takes us out of our comfort zones. It exposes us to new experiences, new cultures and tons of positive vibes. However, most times, we'd appreciate it if our health remained in its comfort zone.
It is indeed a fact that some of our travel schedules are pretty hectic. This makes it way too easy for us to overlook our health. Here is a list of 10 methods to help you stay healthy while you're on the road. Happy travels.
1. Always bring a face mask.
We can't always keep away from sick people, especially if we're on a plane or some other place that has closed circulation. We thought we were safe by sitting three rows away from a sick passenger. But this isn't always the case.
According to studies, an airborne virus spreads freely in confined spaces. Therefore, you should always keep some face masks in your bag. If you can't avoid them, at least you can do something to protect yourself.
2. Get TSA pre-check.
Citizens of the US, rejoice. Complete the two-step sign up for TSA pre-check (applying, then fingerprinting), and you will get a "known traveler ID" after approval.
I think the best thing about this is you don't have to take off your shoes while passing through security. This minimizes the risk of potential fungal infection, or any microbes your bare feet might pick up.
3. Make sure you pay attention to your personal hygiene.
Do you have hand sanitizer and disinfecting wipes in your bag? I think we all know too well that door handles, dining trays, poles, straps on buses and armrests are hot spots for germs.
Touching them exposes us to higher risks of viral infection, especially through the fecal-oral route. In places where faucets are available, wash your hands with soap and warm water, scrubbing every surface of your hands clean.
4. Only wear contact lenses when you need them.
I agree that glasses make us look nerdy in photos, but wearing contact lenses from 9 to 5 (or even longer) can dry up your eyes and increase irritability. This makes them more susceptible to microbes.
5. Stay hydrated.
All the "what is in my bag" videos by travel bloggers have one thing in common: a water bottle. I don't need to tell you how important is to stay hydrated while traveling.
However, in order to avoid spending more than you should in certain touristy sites, you should always bring a reusable water bottle and fill it up whenever you see a water fountain. But please be aware that one should not do this in developing countries troubled by cholera outbreaks or waterborne diseases. Buying a bottle of water or two is your best bet when you travel to such countries.
6. Keep up an exercise routine.
"How can I exercise while traveling?"
Well, you don't always have to hit the gym. Simply think of it this way: Isn't it cool to do yoga in the Grand Canyon, or have an early morning jog while passing by the Eiffel Tower? In this way, you get to both stay healthy and see major landmarks before they get bombarded by tourists in the afternoon.
7. Stay active.
Traveling actually makes us healthier if we do it right. However, we don't get to hike the Alps, white water raft or swim in beautiful lakes every day. There are times when we are stuck on planes, buses, you name it.
Nevertheless, stay active. During long-haul flights or bus trips, stand up once in a while. Do some stretches to prevent deep vein thrombosis. Learning some foot exercises from YouTube will help.
Also, always try to explore a new city by foot. Walking is more budget-friendly, and it allows a traveler to experience more. When you are sick of walking, rent a bike.
8. Eat healthily.
How many times have you heard friends say they need to go on diets after they've taken a few indulgent trips? In addition, how often have you seen backpackers munching those extra crackers or muffins they grabbed from the hostel's breakfast table for dinner?
I've gone through both. But neither overeating nor being undernourished is good. While traveling, practicing a balanced diet is a must.
Eat more fiber and fruits. If there's a public kitchen available, buy some fresh ingredients from the local markets and cook up a good meal for yourself. You should also load your bag with healthy snacks like cereal bars, macadamia nuts and dark chocolates. This will give you an instant boost when you're hungry (and hunger leads to hanger).
9. Get enough rest.
This is especially crucial for extreme backpackers. When I was backpacking through the US on a shoestring budget, I allowed myself to book bus trips that left at 1 am and reached my destination at 5 am. The result? Sleep deprivation.
So, after a few malicious cycles of stress-inducing bus trips, I finally settled with having a nice bed every three days at the very least. It makes a huge difference when you're well-rested. You will be more aware of your surroundings, handle stress better and be able to enjoy life to the fullest.
It also helps when you meditate for 20 minutes per day. Let's face it: Everyone in the modern world needs a zen retreat right now.
10. Always bring essential medicines with you.
Sure, we can get them from any drugstore in the city. But despite what you may think, looking at maps and desperately searching for a pharmacy when you have diarrhea is no fun.
This post was originally published on the author's personal blog. Need more tips? Visit Vivian's blog, or follow her on Facebook and Instagram.