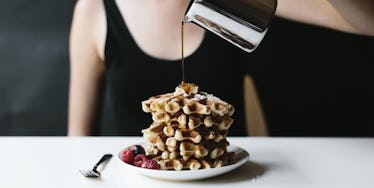 19 Ways You Didn't Know You Could Use Your Leftover Protein Powder
Protein is so important post-workout.
We always recommend having protein 30 minutes after your sweat sesh to give your body the amino acids it needs to repair your muscle fibers and build beautiful, lean muscle.
While most of you probably use protein powder in shakes, you can make pretty much make anything with it!
So, we've put together a list of our top 19 ways to get your protein in.
We're talkin' waffles, doughnuts, cookies and more.
1. Brownies
Soft, chocolatey, delicious brownies are a favorite for pretty much everyone!
Bring these to your next get-together and you're going to make a lot of friends super happy!
Grab the recipe here.
2. No-bake snack bites
Sometimes, baking is just not an option.
When you're on the go and need a quick bite to hold you over, these snacks are the perfect addition.
Whip up these amazing lil' bites in minutes! We love prepping an entire batch for the week.
Try it out here.
3. Cookies
Yep, you can even eat these post-workout and still get the protein perks. And they're naturally gluten-free!
Find them here.
4. Pancakes
Healthy pancakes: They're a thing. Totally gluten-free, soft and PACKED with protein, these pancakes are perfect for rebuilding your muscles post workout.
Need we say more? Find the recipe here.
5. Smoothies
You may have made a protein smoothie before, but we have the ULTIMATE guide to making the best smoothies ever.
Mix 'n match to make your morning go-to breakfast with all the nutrients you need to get your day going.
Find your combo here.
6. Doughnuts
Yes, you heard us, DOUGHNUTS.
I mean, who can really say, "no" to a doughnut? And, their protein gives you your post-workout fuel.
So. Much. Yes. Try them out here.
7. Muffins
There's no better way to start a cold morning than with an almond milk latte and a warm muffin.
We love cuddling under blankets on a lazy Sunday morning with a plate of these protein yums.
Find the recipe here.
8. Birthday cake
Celebrate your next birthday with some body-loving ingredients that your taste buds are going to love, too.
And guess what? Your friends will have no idea that this recipe is actually good for your bod!
Find the recipe here.
9. Pumpkin pie
This sweet treat is #perf for holiday parties. (Or, you know, a random Saturday.)
Either way, we love treating ourselves to a slice of this little pie every now and then.
Grab the recipe here.
10. Hot chocolate
This is pretty much the perfect way to get your protein in, especially if it's a lil' chilly out.
Invite your gal pals over and make a big pot of this crazy delicious hot cocoa to share while having a movie night in.
Try heavenly coco here.
11. Breakfast scones
Get your post-workout protein with your morning breakfast scone and cuppa!
We love it dipped into some coffee or tea, and they look beautiful on the counter if you have guests coming over.
Try it out here.
12. Shortbread
Make a big batch of these lil' guys, and keep them in the fridge or freezer for whenever the sweet tooth strikes.
This is another amazing treat to share with friends over a pot of coffee.
Find it here.
13. Smoothie bowls
We love a good smoothie bowl. It's like art you can eat!
Plus, you can add amazing toppings like coconut flakes and cacao nibs. Try out the recipe here.
14. Milkshake
Swap your sugary, blood-glucose spiking milkshake for this healthy, totally yum version.
And you even get your coffee fix from it, too. You can find it here
15. Doughnut holes
This is a total fan fave whenever we make it.
Not only does it taste incredible, but it also makes your entire kitchen smell like an absolute dream. Grab them here.
16. Waffles
These couldn't be easier to make. All you need are a few ingredients and a waffle maker.
Hello, Sunday brunch day! Add some fresh berries and a drizzle of maple syrup, and you're ready to go.
Grab the recipe here.
17. Overnight oats
We love how simple this protein-packed breakfast is.
You can make a batch for the entire week in a few minutes. The ultimate grab-and-go breakfast.
Try our Banana Peanut Butter Overnight Oats here.
18. Mug cakes
It's a completely yum cake that takes 2 minutes to make, and it's also super good for you.
All you need is a microwave, making this the perfect dorm room treat. Gimme!
Try it out here.
19. Mixed with water
You can also mix it in with coconut water, almond milk, hemp milk, cashew milk or anything else!
Perfect Fit Protein tastes so great on its own, so you can mix it with whatever you want and still be totally satisfied. Protein made easy peasy.
Want even more? Join the Tone It Up Nutrition Plan for thousands of delicious recipes that help reach your fitness goals and taste totally fab, too! You're going to be totally obsessed with all of the recipes.