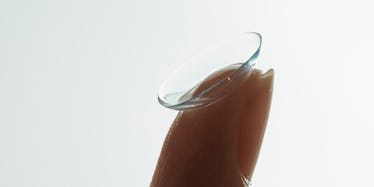 Try Not To Cringe At This Woman Who Somehow Lost 27 Contact Lenses In Her Eye
Getty Images/Thomas Trutschel
Last time I checked, your eyeballs are enclosed in something called an eye socket, not an eye pocket -- meaning you definitely shouldn't be storing sh*t in there for later, right?
Or, at least, I'm pretty sure you're not supposed to casually keep 27 contact lenses in your eye socket.
Sure, it's a wild guess on my part, but I think I might just be right.
According to the British Medical Journal (BMJ), doctors found 27 contact lenses lost in the eye socket of a 67-year-old woman as they prepared her for surgery at England's Solihull Hospital.
The lenses were reportedly clumped and "bound together by mucus."
So, not only was her eye socket serving as a makeshift Mary Poppins bag, but she also had a, shall we say, sticky situation going on.
I cannot even, you guys.
In case you were wondering, this situation is as unusual as it sounds. The doctors who operated on the patient were just as surprised as you probably are at this very moment.
According to the report in BMJ, none of the doctors involved in the incident had ever witnessed something like this, and many were shocked to discover the woman hadn't experienced any severe symptoms at all.
Henry Leonard, an Association of Optometrists clinical and regulatory officer, told Optometry Today,
Patients do sometimes present with a contact lens stuck under their upper eyelid, particularly if they are new to contact lens wear, or have problems with dexterity, but finding this many lenses stuck in someone's eye is exceedingly rare. Most patients would experience significant discomfort and redness, and be at risk of eye infections.
It turns out, the patient did feel some slight discomfort, but she thought it was simply due to dry eyes and old age.
The mountain of contacts was discovered as doctors were injecting anesthesia into her eyes to prepare her for a cataract surgery.
The doctors had to literally stop the operation because if they continued, the patient would have an overload of bacteria in her eyes.
Yuck.
This strange occurrence could have been due to the fact that the patient had "deep set eyes," (maybe her eye sockets are pockets after all?).
However, her assessment before the operation apparently showed no signs of any missing contact lenses (how is that even possible?!).
Rupal Morjaria, a specialist trainee ophthalmologist, stressed the importance of keeping a literal and figurative eye on your contact lenses:
Contact lenses are used all the time, but if they are not appropriately monitored we see people with serious eye infections that can cause them to lose their sight.
Guys, for the love of Yeezus, please consider this your reminder about the importance of regular check-ups.
Even if it's the last thing on your to-do list, visit your doctor at least once a year.
Ain't nobody got time to walk around with growing bacteria in their eyes.