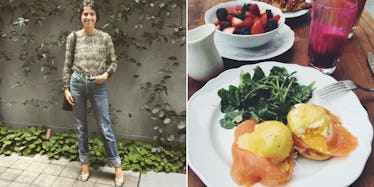 This Is What Today's Most Successful Millennials Eat For Breakfast
We've said it before and we'll say it again: Breakfast is the most important meal of the day.
It kick-starts your metabolism, gives you energy and sets the tone for the entire day.
So in an effort to encourage more of you to eat breakfast -- OK, and we were also just really curious -- we got in touch with some of today's most successful Millennials to find out what they're noshing on in the morning.
We got a wide variety of answers, and we're very impressed by the morning routines of these young entrepreneurs.
Here's what super-accomplished Millennials eat for breakfast every day.
Leandra Medine, 26
When it comes to breakfast, the founder of the crazy popular fashion website Man Repeller is all about energy.
I have two slices of Ezekiel toast with Nutzo almond butter on them because they are tasty as fuq and filling.
Can't argue with that reasoning.
Nicole Cogan, 26
As a result of serious food allergies, Cogan went on a mission to find the best gluten-free options at New York City's restaurants. Now she has a huge following on her blog, No Bread.
Unsurprisingly, she takes breakfast very seriously.
I'm a believer that every breakfast needs protein. So I typically start my mornings with a vegan chocolate protein shake (because I'm a chocoholic, too) with a side of fruit or trail mix. My friends like to call me a rabbit because I'll pick through big mixes and just eat my favorites -- pecans and walnuts, pepitas, dried cranberries and raisins! Lastly, when I'm at a restaurant, my go-to breakfast is fruit with a side of bacon... because bacon makes everything better.
Yes. Bacon absolutely makes everything better.
Whitney Wolfe, 25
Wolfe is the founder of Bumble, a dating app that's a lot like Tinder, except it puts the girls in charge of making the first move.
As for breakfast, it's not exactly on her agenda on the moment.
Breakfast? I eat my emails for breakfast.
Fair enough.
Jordan Younger, 25
After struggling with an eating disorder called orthorexia for years that developed as a result of stomach sensitivity, Younger started tracking her new lifestyle on her website The Balanced Blonde and just published her first book, "Breaking Vegan."
As for Younger's breakfast, it's pretty darn balanced.
I always start my day with a glass of warm water with lemon because it's great for digestion and metabolism and I have a notoriously sensitive stomach. When I go without that little dose of morning hydration I suffer for it later. After that I love to have bulletproof coffee (cold brew, brain octane oil and grass-fed butter or cacao butter), which is the best for a super busy workday because it gives me an extra jolt of energy and makes me hyper-alert throughout the day. When I don't do bulletproof, I have regular cold brew coffee along with a green smoothie (kale, banana, almond milk and protein powder). I like to keep things simple and healthy in the morning and set my day on track to feel good and energized. I am also training for a marathon right now, so when I wake up extra early for my long runs I like to have a huge glass of water and a Quest bar (cookie dough flavor all the way!) to pack in the protein but keep it super light and eat a bigger breakfast later on.
Yeah... our breakfast doesn't hold a candle to that.
Nick Gray, 33
Gray is the founder of Museum Hack, a startup that changes the way museum tours are given.
In other words, he's on a mission to make the awesomeness of museums shine through in tours by taking an unconventional, creative approach.
He also takes an unconventional approach to breakfast.
I make a very mean bowl of steel cut oatmeal. My secret is that I use a Japanese rice cooker to cook it overnight, so it is ready for me first-thing in the morning. It includes raisins, cinnamon, sea salt, sometimes shredded coconut, coconut oil.
Uh, can we get in on that?
Payal Kadakia, 32
It's pretty safe to say Kadakia is the queen of fitness these days... or at least the queen of getting people fit.
She founded ClassPass, giving people affordable access to boutique fitness studios all over the country.
As for her morning fuel...
What I eat varies from day-to-day, but I always start my day with a big cup of green tea and my vitamins. My go-to is a Venti Jade Citrus Mint Green Tea from Starbucks, but I also brew my own in the office a lot.
We'll have what she's having.
Jac Vanek, 28
Fashion designer Jac Vanek doesn't mess around when it comes to her clothing, accessories, Instagram or breakfast.
First I chug a large glass of water. Then I drink a coffee as black as my heart (hot from the Keurig at home or iced from Starbucks). Next I grab a smoothie from my local juice bar with kale, coconut meat, coconut water, banana and cinnamon because I'm a total basic LA bitch.
Not gonna lie, that sounds pretty great (and energizing).
Bonus: Elite Daily's own Edin Veljovic, 24
From writing to managing and consulting, Elite Daily's Edin Veljovic needs all the energy he can get -- which is why when it comes to breakfast, he doesn't mess around.
I have an omelette with three eggs, green peppers, Spanish onion and monterey jack cheese with Dinosaur BBQ hot sauce on the side because it has the best combination of spice and taste. I love making omelettes more than I love eating them, and cooking is one of my favorite hobbies. Also, a big breakfast keeps me full for a majority of the day so I can spend more time getting work done and less time worrying about what I'm going to have for lunch.
Looks like we're going to have to ditch our daily bacon, egg and cheese bagel and start eating oatmeal and green stuff for breakfast.