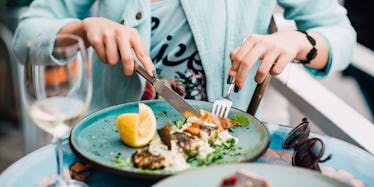 5 Ways To Make Sure You Stay Healthy, No Matter Where You Eat
Boris Jovanovic
It's hard to eat healthy when traveling.
Whether it be to your parents' house for the weekend or a week-long business trip, health food stores and all-organic restaurants aren't usually an option.
But, that shouldn't stop you from sticking with a healthy diet.
Here are some healthy eating hacks while you're traveling:
1. Plan and pack snacks.
If you're driving, this makes packing your own food super easy. But what exactly should you pack?
Mark Hyman, MD, suggests packing long term energy foods like almond butter, nut milk, wild-canned fish, as well as apples, lemons and avocados.
I personally would also throw in some rice crackers for the fish.
If you're flying, you could probably still fit a few of those things in your carry-on, but in travel-size, like those on-the-go Justin's Almond Butter Packets.
If you're craving something sweet, having a 70 percent dark chocolate bar with you can do the trick.
And if you can't travel with these, find a grocery store when you arrive. You may be surprised at what grocery stores in tiny towns have.
Just don't get sucked into the middle of the store where all the processed foods live.
2. Know the restaurants around you.
If you're not traveling alone or visiting family and friends, it's guaranteed you will eat out at some point.
But, that doesn't mean you can't stick with your diet plan. If you know which restaurant you'll be going to, try to check out the menu beforehand so you know your options.
If you get to choose the restaurant, look for ones with choices like grass-fed beef, wild-caught fish and organic produce.
If you're not able to check out the restaurant beforehand, it's likely it will have some sort of dish involving grilled chicken or fish with steamed veggies and olive oil.
If that's not an option, you can always swap out carbohydrate sides with veggies and ask for the dressing on the side.
3. Check out the plates around you.
The first thing I look at when walking into a restaurant is what other people are eating.
I do this not only to get ideas on what to order but also to see the portion sizes. Some restaurants, especially in the Midwest and South, have huge portions.
If you see there is no way you'd be able to eat that entire plate, ask if you can split it with someone, or check out their appetizers.
Sometimes an appetizer with a side salad is tastier than all the entrees.
Of course, you could always just plan to take home leftovers, but that is a tricky one because there's the temptation to keep eating what's on your plate, even after feeling full.
4. Eat light leading up to special treats.
If you know you'll be out and about eating at an outdoor festival during the day or restaurant at night, be aware of what you eat leading up to going out.
If you know you'll have a huge dinner that night, opt for a nice salad at lunch. Never starve yourself all day beforehand, but be conscious of what you're eating so you don't overindulge.
5. Share your healthy recipes in the kitchen.
Whenever I visit my parents for the holidays, I learn some yummy new recipe and add my own healthy twist.
Letting your family or friends in on your nutritional knowledge can be a fun learning experience and a great way to spend time together.
Bring some of your favorite healthy recipes to share, and maybe you'll spark a new interest in them.