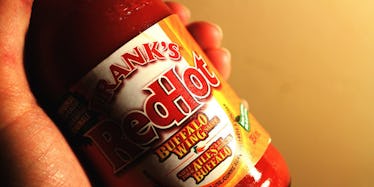 Science Says Hot Sauce Is Healthy, Especially When Eaten With Fatty Food
Hot sauce is the frontrunner among the condiment competition. Whether you prefer Frank's Red Hot to Tobasco, Cholula to Tapatío, or Sriracha to Texas Pete, the liquid blend of peppery spices is best when used on just about everything.
And if you're riding the hot sauce wave, you're doing a solid for more than your taste buds, as scientists suggest hot sauce is actually healthy.
According to two top pepper experts, capsaicin, the active ingredient in peppers, has been shown to have antioxidant, anti-inflammatory and anti-cancer properties in lab experiments.
David Popovich, a senior lecturer at Massey University in New Zealand who also studies bioactive compounds in plants, has seen reduced growth in cancer cells from putting capsaicin on top.
Popovich tells TIME, scientists theorize capsaicin to be a trigger of apoptosis, which encourages cells, including mutated ones, to be turned into new cells. He says,
That's one of the ways scientists think capsaicin and other active compounds in vegetables can prevent cancer development: by stimulating apoptotic cell death.
Popovich also notes that hot sauce is better for you when eaten with fat, as capsaicin is fat-soluable, which means your body can absorb more when you eat hot sauce with chicken wings than the accompanying carrots and celery.
Certain hot sauces are better for you than others, however, as some fan favorites like Sriracha contain added sugars, and others have too much sodium. So be wary when you head to the super market after this to stock up.
But when you've found the right one, go ahead and throw it on everything.
Citations: This One Condiment Instantly Improves Your Diet (TIME)