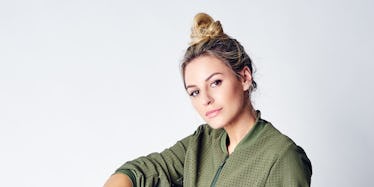 LuLu, Who? 'RKOBH' Star Morgan Stewart Stakes Her Claim In Fitness Fashion
Touché LA
If you're not familiar with her blog, Boobs&Loubs, you know Morgan Stewart from her role on E!'s "#RichKids of Beverly Hills."
Although she's already made a name for herself both onscreen and digitally, Morgan's foray into fashion became official Monday with the launch of her exclusive collaboration with fitness brand Touché LA.
The fitness fashion line -- available for pre-sale Monday, March 21 through Wednesday, March 23 at 12 pm PST -- was a no-brainer for Morgan from the get-go. She says,
I couldn't be more excited for my fans to get their hands on my new athleisure collection. This was a passion project for me and something I've been very hands on with since the start. When Touché LA first approached me I knew it was the perfect fit because they are a young and innovative brand that shares the same vision as I do about how versatile athletic wear should be. Plus, they allowed me to bombard them with my creative input to ensure the line was a true representation of my personal taste.
With a carefully selected color palette and Morgan's refined taste, Touché LA Founder Jaynee Singer and CEO Karl Singer put together a collection of statement pieces and sophisticated designs using their signature fabrics to appeal to women of all ages.
The brand's consistent approach to fashion-forward fitness resonates through the collaboration, of which founder Jaynee Singer says,
Touchè LA was created with a vision for the girl who loves fashion, appreciates luxury and wants to feel empowered. Morgan caught our eye with her distinct fashion sense and style along with her incredible personality. We were able to showcase new and innovative fabrics with cutting-edge design to develop a collection that speaks to the consumer and, more importantly, Morgan's fan base.
The Morgan Stewart x Touché LA collection officially launches on the company's website and REVOLVE on April 20.
Follow Elite Daily for more on Morgan Stewart in anticipation of season four of "#RichKids of Beverly Hills" in April 2016.