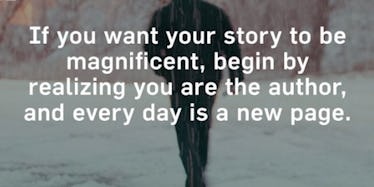 26 Quotes That Will Inspire You To Make 2016 Your Best Year Yet (Photos)
On December 31, we'll all be bidding adieu to 2015.
While New Year's Eve is great for popping champagne bottles, kissing strangers and drunkenly singing "Auld Lang Syne," it's also a great time to reflect on how much ass you kicked this year (even if you made a few mistakes) and get ready to kick even more in the coming year.
In an effort to help you keep your resolutions this year, leave the past in the past and look forward to the future, we put together some quotes that will help you take on 2016 like a boss.
Cheers!
So long, 2015.
What are you waiting for?
Change is good. Change is very good.
Laziness is so 2015.
Always look again.
The biggest risk in life is to risk nothing at all.
It won't be easy, but it'll be worth it.
Sometimes you have to start over.
Other times, you have to remind yourself to stop giving up.
Be unstoppable.
You can have it all.
Stop looking back.
Crush those goals.
Go on adventures.
What will you write this year?
What will you do with the days in front of you?
Don't settle for anything but the magnificent.
Start now.
Remember why you started.
Trust the magic.
Don't finish bad books.
Go do them.
It's all about discipline.
Set yourself on fire.
Don't forget to kiss someone who thinks you're wonderful.
No second chances.
Happy New Year!