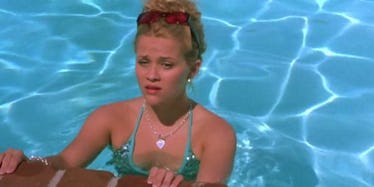 We Busted The Biggest Myths About Getting Your Body Checked For Skin Cancer
MGM
Every family has its quirks but in mine, they're medically based. Just a few weeks ago, I received a politely titled email from my father (who lives halfway across the country) titled "Annual Skin Check Reminder."
What, your parents don't send you skin cancer emails? Without my dad's prodding, I'd never actually get to the dermatologist, but just continue to wallow in my everyday existence.
My father isn't the only one emphasizing the importance of a preventative dermatologist visit, either. Khloé Kardashian hit the news this week for having a reported 8 inches of skin removed because of a cancerous mole.
You don't have to enjoy stripping down and having a dermatologist peer at all your beauty spots. Catching possible skin cancer early is key in preventing or beating it entirely. You don't enjoy having a popsicle stick shoved into your lady bits yearly either (that's scientific jargon for Pap smears), but you go anyway.
If you're worried about hitting up the dermatologist for the first time or feel confident your skin wouldn't dare act up on you, think again. We're breaking down some of the most commonly believed falsehoods about getting checked for skin cancer.
Myth 1: I only need to get checked if something feels strange because that probably means skin cancer.
Sure, you and Khloé both may have noticed a new mole growing, one that seems to be changing shape or darkening in color. In that case, it's important to get a skin screening immediately.
Changing, discolored and uneven moles are some warning signs you shouldn't ignore.
But, if you have a body that's covered in moles from head to toe (guilty), there may be some you can't see that can still turn Benedict Arnold on you. Investing in a yearly dermatologist visit can be the difference between a successful early diagnosis and one that's too late to beat.
It's scary, but so is cancer.
Myth 2: People who tan are the most susceptible to skin cancer, and I don't tan so I shouldn't have to worry.
Ah, the superiority complex people who don't lie in tanning beds hold over those who do. And while our 7.8 million bronzed brothers and sisters have managed to raise their risk for melanoma by 59 percent, according to the American Academy of Dermatology, that doesn't let the rest of us off the hook completely.
By now, you've probably heard about the importance of using sunscreen so often it's permanently echoing through your brain chambers. Wearing SPF over 30 and reapplying every two hours are crucial steps toward protecting your skin (and avoiding becoming a saggy-skinned old person at age 40).
But, if you have any close relatives who've been diagnosed with melanoma, you may be at risk for genetically-passed familial malignant melanoma. According to the American Society of Clinical Oncology, 8 percent of patients who have malignant melanoma list a relative who had the same.
In other words: If Grandma tells you about her brush with skin cancer and she's best known for lying in the shade, call your dermatologist.
Myth 3: I have to get totally naked in front a male doctor and this is going to be a super weird experience.
There's nothing like the soul-sucking anxiety of waiting to see a doctor for the first time. If you've done your research and chosen a highly-rated dermatologist (I swear by ZocDoc), you should be fine. A good medical professional will put you at ease, explaining as much or as little of the process as you'd like.
As for getting naked in front of a dude doc, that's all up to you. Specifically request a female dermatologist, if that makes you more comfortable. In my experience, many skin doctors allow underwear for at least some of the visit, as well as a paper gown. If you have a particularly notable mole shaped like Miss America's crown on your left butt cheek, prepare to get a little more intimate.
Rest assured, this dermatologist sees no fewer than a dozen left butt cheeks a day (we're not even counting right butt cheeks). You're nothing surprising. A mole that looks problematic will be biopsied, with your skin numbed during the process.
Myth 4: If I get my yearly skin check, I'm all done for the year.
Nope, you're not off the hook yet. The Skin Care Foundation advocates a monthly self-skin check, done after the shower or while you're just conveniently in the nude.