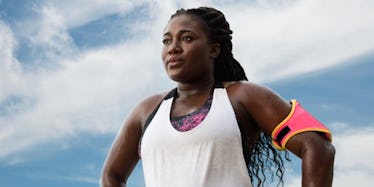 5 Makeup Products You Can Wear To The Gym That'll Withstand All Your Sweat
Fotolia
Whether you're running straight from the office to SoulCycle and don't have time to wash your face, or you just enjoy how badass it feels lifting weights with makeup on, sweating with the wrong mascara on can honestly be a disaster. I don't know about you, but I profusely sweat during a good workout, and I've come to learn that perspiration and foundation are not friends. That's why finding good makeup you can wear to the gym is key when it comes to your fitness routine.
According to a Daily Mail survey, nearly a fifth of women said they'd go for a run with a full face of makeup on. And while primping before any type of workout is totally acceptable, most forms of concealer just straight up do not mix with cardio (think clogged pores and acne galore -- no bueno).
So stocking up on quality, sweat-resistant makeup that will keep up with your record amount of burpees or hardcore ab circuits is important AF, because as much as you try to work it, raccoon eyes will never be a cute look.
Here are five makeup products you can wear to the gym without worrying about a single smudge. They'll withstand your sweatiest of HIIT circuits, I pinky promise.
1. Tinted Moisturizer
Rae Cosmetics Climate Control Mineral Tint, $42, Rae Cosmetics
This tinted mineral moisturizer is oil-free, which is highly recommended by dermatologists to avoid sweat and dirt getting clogged in your pores.
Rae Cosmetics also made this formula heat-, humidity-, and sweat-resistant, so this bad boy can basically handle anything, and stay on all day long. Basically, your skin will be able to breathe, even when you feel like you can't (death by deadlifts, amirite?).
Combine those post-workout endorphins with this tinted vibrance, and you'll be glowing for hours.
2. Sweat-Resistant Concealer
Katherine Cosmetics K-Sport "WOW" Stick SPF 20, $36, Katherine Cosmetics
Instead of using foundation -- which will feel heavy and cakey during all your plyo moves -- opting for a lightweight form of coverage like K-Sport's Wow Stick will make your skin feel airy and rejuvenated.
And it has that SPF 20 if you decide to pound the pavement outdoors. I know I'm sold.
3. Smudge-Free Mascara
Rae Cosmetics Lush Silk Mascara, $19, Rae Cosmetics
Mascara can honestly feel like the devil in disguise when it comes to sweating your ass off.
Like, I'm pretty sure the last time I tried to make my lashes look luscious at the gym, I ended up looking like a raccoon's uglier identical twin instead.
Rae Cosmetic's mascara formula is smudge-resistant, water-resistant, and dries faster than you can blink.
Oh, and I'm willing to bet this bad boy is a lot more gentle than your usual waterproof go-to (does anyone else freak out when a clump of their lashes fall out when trying to remove that stuff?).
4. Luscious Lip Tint
Glossier Generation G, $18, Glossier
I won't lie to you, it's pretty inevitable that your lip color is going to smudge at least a little during your sweat sesh. But Glossier's Generation G will stay put and look super natural while you're doing your thing at the gym.
Their lip colors adapt to your natural shade, and they won't get streaky while you're stomping on the StairMaster. Plus, they're super easy to stick in your sports bra if you need to re-apply.
5. Brows On Fleek
Glossier Boy Brow, $16, Glossier
If I found myself stranded on a desert island, profusely sweating under the blazing heat of the sun, and could only take one makeup product with me, it would be Glossier's Boy Brow.
The natural formula is derived from olive oil and holds every hair in place, while the collagen helps condition and strengthen the fibers in your brows.
This sh*t is literally bae, and your brows will be on fleek during every last burpee.