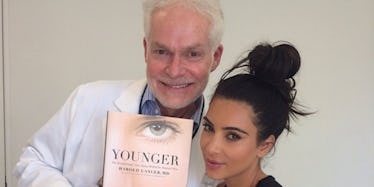 What Happens To Your Skin After Drinking, According To Kim K's Dermatologist
If you thought your pounding headache and upset stomach were the worst consequences of knocking back a few too many drinks, think again.
Your habitual blackouts can also be making your skin look bad.
I know, I felt pretty betrayed by my beloved booze when I found out about this, too.
In a recent interview, Kim Kardashian's renowned dermatologist, Dr. Lancer, told Metro UK,
A glass of the finest red wine is 400 calories of sugar, and sugar triggers acne by inflaming the lining of the stomach – which in turn triggers a brain signal to produce more testosterone.
Long story short, the more you booze, the more severe your breakouts will be.
But that's not all.
You know how your skin always looks dull and tired the day after downing 12 vodka sodas and dancing until dawn?
Well, it turns out your crappy complexion isn't caused by a lack of beauty rest. It's really a side effect of dehydration.
Yup, your beloved booze is actually a diuretic, so in addition to making you thirsty AF after a night of drinking, alcohol robs the skin of moisture and important nutrients, which can result in premature aging (aka lots of ugly wrinkles).
The most disheartening part of it all? It turns out it can take your body anywhere from two to four weeks to undo the damage induced by just one night of heavy drinking.
But don't worry. You don't have to put down the bottle and swear off liquor for the rest of your life. You just need to turn up in moderation and follow some simple steps to combat the damaging effects of dehydration.
Dr. Lancer told Metro,
Staying hydrated is essential for beautiful skin and good health. You need it to digest food, circulate blood and flush out toxins – to name but a few functions. So, it's a good strategy to drink a glass of water every time you have an alcoholic beverage. Secondly, lightly exfoliating to increase circulation can make a visual difference in skin and will help 'wake up' the complexion. Third, thoroughly hydrate skin with an antioxidant-based moisturizer and protect with SPF.
Now, if you would excuse me, I'm going to go drink the equivalent of an entire swimming pool of water.
Citations: This is how long it takes your skin to recover from a hangover Read more: http://metro.co.uk/2016/07/14/this-is-how-long-it-takes-your-skin-to-recover-from-a-hangover-6006484/#ixzz4EPmmeWfa (Metro)