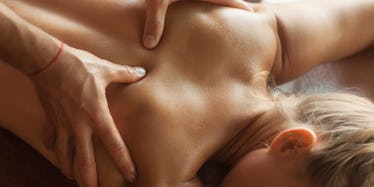 5 Unexpected Health Benefits Of Getting A Japanese Nuru Massage
by Erica Suarez-Hillingdon
Nuru massage is an intoxicating experience that is pleasurable and enticing.
While this unique activity is fantastic for boosting heightened sensations, it also boasts several health benefits that can improve your overall wellness and vitality.
For those new to nuru massage, here's why it's a treatment I recommend to so many people.
What is a Japanese nuru massage?
Originating in Japan, nuru massage is a sexually arousing activity, whereby the masseuse and person experiencing the massage are covered in a special gel.
The masseuse uses their body to massage the client with extreme physical contact, creating intense sensations that are fantastic for many reasons.
The special nuru gel used during this incredible experience is an ancient recipe, consisting of an extract of seaweed called Nori, found on the coast of Japan.
This is mixed with other ingredients, such as aloe vera gel, grapefruit extract, other botanicals and water to create a slippery gel.
As well as receiving sexual pleasure, nuru is a type of tantric massage that has amazing benefits for your health and wellness.
1. It relieves stress.
Being aroused by a nuru massage not only creates sensations of pleasure, but it also relieves stress as.
In fact, in a recent study, a London-based nuru massage agency reported that 83 percent of those who tried the massage felt a significant improvement in mental well-being after the session.
The body techniques used by the masseuse and the skin-on-skin contact provides a wonderful erotic feeling, which makes you feel completely relaxed from head to toe.
I highly recommend nuru massage for anyone who wants to unwind from the stress of daily life. It's a highly addictive experience that will leave you feeling joyous for many hours after your treatment.
2. It relaxes your muscles.
A nuru massage is perfect for relaxing sore or tense muscles.
Even if you have reservations at first, this safe activity and the techniques used by a professionally trained masseuse will leave you feeling refreshed and revitalized.
A nuru massage is best performed on an air bed or a waterproof sheet on the bed, so you can relish the experience as your muscles relax and enjoy the indulgent sensations.
3. Your skin is left feeling moisturized and supple.
The gel used in nuru massage is highly moisturizing. Not only that, but it's completely odorless, tasteless, doesn't stain and is transparent in color.
The composition of the botanical extracts alongside Nori seaweed extract forms a very slippery gel that is heated just before the massage occurs. This mixture also helps to firm the skin, and the antioxidants feed your skin in a positive manner.
4. It helps to release toxins.
Nuru massage is a professional treatment, meaning that a masseuse will use her vast experience and training to deliver appropriate techniques.
The body techniques used in nuru massage help to eliminate toxins from the body. Just ensure that you drink lots of water to flush out the toxins that have been released.
5. It offers sexual exploration to satisfy the body and mind.
Whether you're a man or woman, nuru massage is open to everyone.
No matter what your sexual preferences are, a nuru massage allows you to relish in the sensual energy created during the activity.
The strokes on the skin as your body touches your masseuse's will allow you to engage in a safe and thrilling experience, which will bring you a mind-blowing ending.
Whether you're single or in a relationship, this will relieve feelings of sexual frustration and serve any sexual desires you have, without having to engage in a relationship or one-night stand.