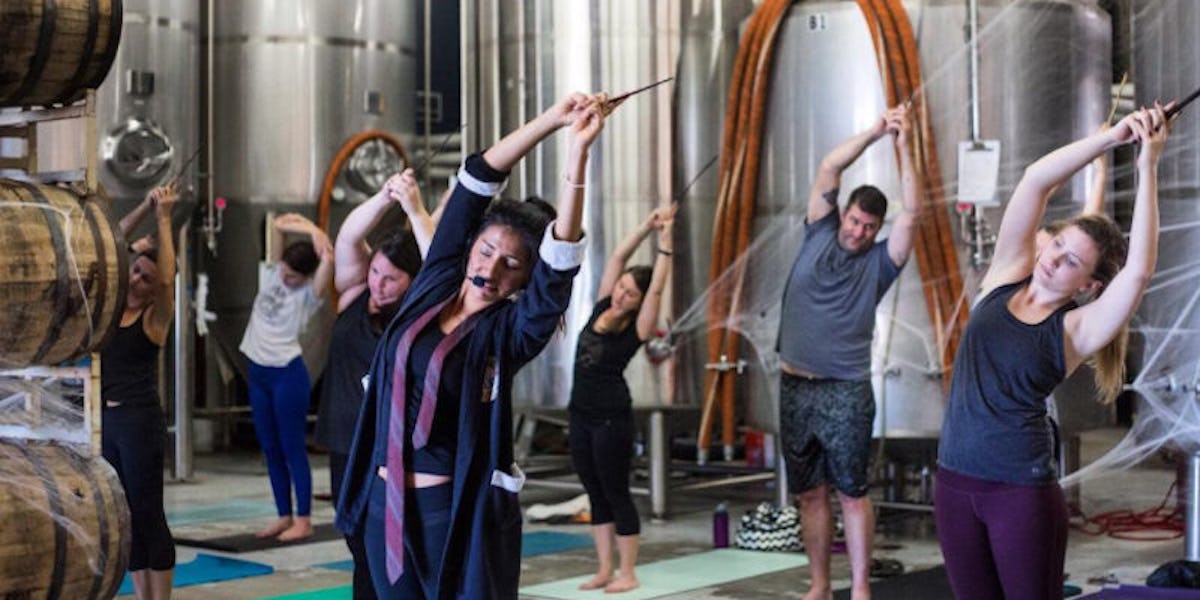 'Harry Potter' Yoga Exists, So You Can Get That Body In The Mirror Of Erised
Instagram
Breaking news: We can now all downward-dog like Sirius' animagus form.
If you live anywhere in the vicinity of Austin, Texas, grab some Floo powder, go into the nearest chimney, throw that green dust to the floor and scream the name "Circle Brewing Company!"
That's right. Cycle Brewing Co. is where all this mischief is getting managed.
Sisters Isabel Beltran and Ximena Larkin came up with the idea for the class, which also includes snacks (YUM) and beer (but is it butterbeer, though?).
Isabel led the class through various "Harry Potter"-inspired poses, including the Downward Fluffy, a Slytherin cobra and a Patronus charm to get rid of those soul-sucking Dementors (basically, all of your exes).
Of course, all good things must come to an end.
The Wizarding World-themed yoga sesh was only available on October 30, so you can officially die inside like a Horcrux just split your soul.
Although, there are plans in the works to hold more of these "Harry Potter"-inspired classes.
On choosing the time of the year for this class, Ximena wrote to Bustle, saying,
I was reflecting on Harry Potter because Halloween night is the night his parents died and I thought it would be interesting to do something around Harry Potter, Halloween and death (from our culture's perspective). We're Mexican and celebrate the Day of The Dead. It's not morbid, but rather a celebration of life (of other's as well as our own). I'm the bigger Harry Potter fan between the two of us and the series (especially the last book) is something that changed my perspective on death.
If you missed out on this yoga session, let me fill you in.
There was a trip on the Hogwarts Express, a broomstick navigation experience and a portion of the event that had people trying to transfigure into a cat.
The whole class ended with this stellar Dumbledore quote:
Do not pity the dead, Harry. Pity the living, and, above all, those who live without love.
Let me put it this way: If I took this class, I probably wouldn't pity my love handles.
Honestly, this sounds like the closing us Muggles can get to being accepted into Hogwarts School of Witchcraft and Wizardry.
Citations: Harry Potter Yoga Exists & You Need To Apparate To It Right Now (Bustle)