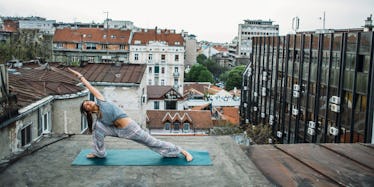 8 New Workout Classes That Will Have You Rethinking The Gym
Working out can be hard.
We are physically and emotionally pushing our bodies to do things they're not accustomed to.
Whether it's a two-mile jog or a two-hour weightlifting session, exercise can be tough.
Plus, feeling motivated enough to actually get ourselves up and off to the gym is not always easy.
We've heard many times that "showing up is half the battle," but sometimes most times, that's actually the hardest part.
We all have our reasons for wanting to work out: to feel better, to look great naked, to lose those pesky extra pounds we put on this summer or to get toned for an upcoming vacation, wedding or reunion.
But for every reason, most of us find just as many excuses to skip the gym.
"It's raining out."
"It's too cold."
"All of my gym clothes are dirty."
"My favorite show is on tonight."
"I'm too sore."
"I'm in the middle of a Netflix binge."
"I made plans with my friends."
"I'll start tomorrow."
I get it. I'm right there with you.
I'm ashamed to admit how many times that bottle of red wine wins over working out.
Fortunately, for those who are too lazy to motivate themselves to exercise (myself included), there is a wave of new workouts hitting the fitness scene.
With New York City being the mecca of all things trending, it's no surprise these workouts can be found in the Big Apple.
All of these classes are effective and innovative ways to work out.
Each class offers something a little different, which means you're bound to find at least one class that will excite you and motivate you to exercise.
Check out these eight new workout classes trending in New York City, and find yourself a fun, new way to get in shape:
1. Rooftop Yoga (And Wellness) With SERENE Social
SERENE Social is a wellness community for conscious women.
Its top attraction is rooftop yoga.
Imagine getting your namaste on from the rooftops of New York City, Los Angeles and London.
But SERENE is much more than just yoga.
With mindfulness and wellness classes, pop-up events, dinners and members-only specials, SERENE covers the mind, body and spirit.
Take spin class from land to sea.
AQUA Studio offers aqua cycling classes in a unique and peaceful environment.
Cycling bikes are immersed in a candlelit pool, with four inches of temperature-controlled water to warm up your body for an optimal workout.
Aqua cycling pairs the challenges of high-intensity cardio and full-body toning with the natural, healing properties of salt water.
If Zumba is the Latin influence for working out, Banana Skirt is the reggae alternative.
Burn up to 800 calories per class while learning dance moves to pop, reggae and hip-hop music.
Banana Skirt actually works with Atlantic Records, so you can expect several of its classes to be based off the artists' videos.
Think Janet Jackson, Britney Spears and even *NYSNC.
Trainers and fitness gurus have been telling us about HIIT workouts (High Intensity Interval Training) for quite some time now.
Now, you can get HITT without online printouts or streaming videos.
The Fhitting Room is a HIT (High Intensity Training) fitness studio providing these effective workouts in a small class environment.
Burn more calories, experience lean muscle growth and achieve personal bests with The Fhitting Room's trained instructors.
The Flywheel indoor cycling ride combines the fast-paced cycling workout — including climbs and descents — with arm workouts using weighted bars.
But beyond the techniques used in class, Flywheel is the first indoor cycling studio to house stadium-style seats.
With each pedal stroke, you are one step closer to winning a race against yourself and your fellow riders.
This is the perfect workout if you have a competitive streak.
6. Boxing Boot Camp With AEROSPACE
AEROSPACE is a machine-free, sports-emulation, high-performance fitness center (say that three times fast).
Classes incorporate full-circuit boxing equipment and range from 30 to 60 minutes.
AEROSPACE combines workout techniques derived from professional sports and focuses on building muscle strength, promoting cardiovascular health, improving body tone, bolstering endurance and enhancing confidence.
SURFSET Fitness has found a way to make surfing something anyone can do.
SURFSET lets you engage your core with mechanized surfboards and 45 minutes of surf-inspired workouts.
Intervals of high-intensity aerobic training on the board will build your endurance and torch body fat.
Classes draw from the real movements of surfing to create workouts that build balance, core strength, stability, agility, aerobic conditioning, power, lean muscle and coordination.
Gnarly.
8. Interval Training With AKT InMotion
AKT incorporates a full spectrum of fitness elements, from yoga and dance to strength training and plyometrics.
Each class runs either 60 or 90 minutes (broken up into 10-minute segments) and draws on a range of proven methods to strengthen your body and improve flexibility.
AKT InMotion classes are designed to progress, change and evolve over the course of each week so you never walk into the same class twice.