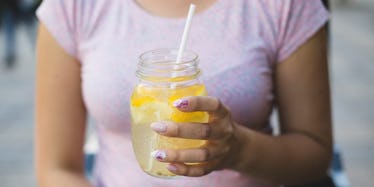 Apparently, People Are Drinking Their Own Piss As An Insane Health Trend
First they came for our gluten, and I was silent, for I had no gluten allergy.
Then, they came for our dairy, and I was silent, for I had no dairy allergy.
Finally, they came for our pee, and I was like, "WTF YOU'RE NOT DRINKING MY PEE, YOU HEALTH FANATICS. HONESTLY, WHAT ARE YOU THINKING?!"
I'm not making this shit up.
The health community is trying to say that drinking the discarded toxins of your own body can clear up your skin and give you a boost of energy.
Unacceptable.
First of all, there are no studies I could find proving the scientific efficacy of the practice known as urotherapy, which involves drinking, massaging and bathing in your own urine.
But, there are plenty of celebs openly voicing their support.
Comedian Joe Rogan talks about doing it on his podcast, Madonna has been said to pee on her own feet in the shower to cure athlete's foot and Kesha (obviously) said she drinks her own urine in a reality show she did for MTV.
I reached out to one person I know who tried it, and she claimed it cured plantar warts on her feet within a week.
OK, so maybe it works topically, but DRINKING your own piss? Why would anyone do that? Are there no limits? What about the toxicity?
One article by Marie Claire seemed to present two different opinions by doctors.
Mr. Zaki Almallah, consultant urologist at BMI Priory Hospital in Birmingham said,
It's a bizarre concept. The kidneys filter the blood and any excess fluid, and salts and minerals are expelled. The point of urination is to rid the body of excess. Why would you want to re-absorb that?
But Shona Wilkinson, head nutritionist at NutriCentre claimed the opposite, saying that because it is filtered twice through the liver and then again the kidneys, "Urine is approximately 95 percent water and 5 percent nutrients like calcium, iron, magnesium and zinc," and therefore isn't toxic.
So, what can we believe, and what can science actually back it up?
Actually, nothing.
Melissa Conrad Stöppler, MD, explained, "The bottom line is that drinking your own urine isn't likely to be harmful, but it has no known medical benefit."
You're welcome, everyone. You can stop drinking your own fucking pee now.