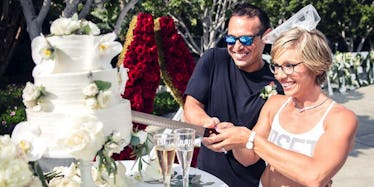 This Couple Loves CrossFit So Much They Used It As Their Wedding Theme
Preston Smith
Nobody feels neutral about CrossFit. Whether you launch into fiery tirades at the mention of your local "box" (Cross-speak for gym) or can't tell your friends about your cut muscles enough, it inspires something of a passion in all of us.
CrossFitters aren't in it solely for the caloric burn. The workout inspires commitment, a willingness to make yourself uncomfortable for the sake of progress and a community spirit. All those attributes, coincidentally, are what you'd look for in a life partner.
For Brooklyn couple Oliver Drewes and Christina Moore, CrossFit has been the glue that keeps their relationship thriving. The pair, who've been working out together since they first started dating, give the fitness program credit for their intense partnership. And it only makes sense, since they just became the first ever bride and groom with a CrossFit-themed wedding.
The nuptials were the result of a Reebok contest offering two very lucky individuals the chance at an all-expenses-paid wedding in the middle of the 2016 CrossFit games.
Moore wrote in an Instagram caption,
I wasn't a little girl who dreamed of a big wedding or a white dress. All I ever wanted was happiness and love with a man who loves my brand of crazy. I found that man!
Makes your heart skip a little, doesn't it? I mean, not beat fast enough that you'd burn any calories. Leave that to the CrossFitters.
The wedding took place this past weekend at the StubHub Center in Carson, California, and the bride wore white… tennis shoes.
The groom was resplendent in mirrored sunglasses and the couple performed a celebratory box jump on their way out of the arena.
Look at those matching grins.
The greatest challenge isn't their Workout Of The Day (WOD, to those in the know), it's getting through the wedding without tearing up.
Dave Castro, director of the CrossFit Games, did the honors.
That red in the background? Only five-foot floral letters that read "better together."
Here's to a life of challenges...
...and a marriage filled with happiness.