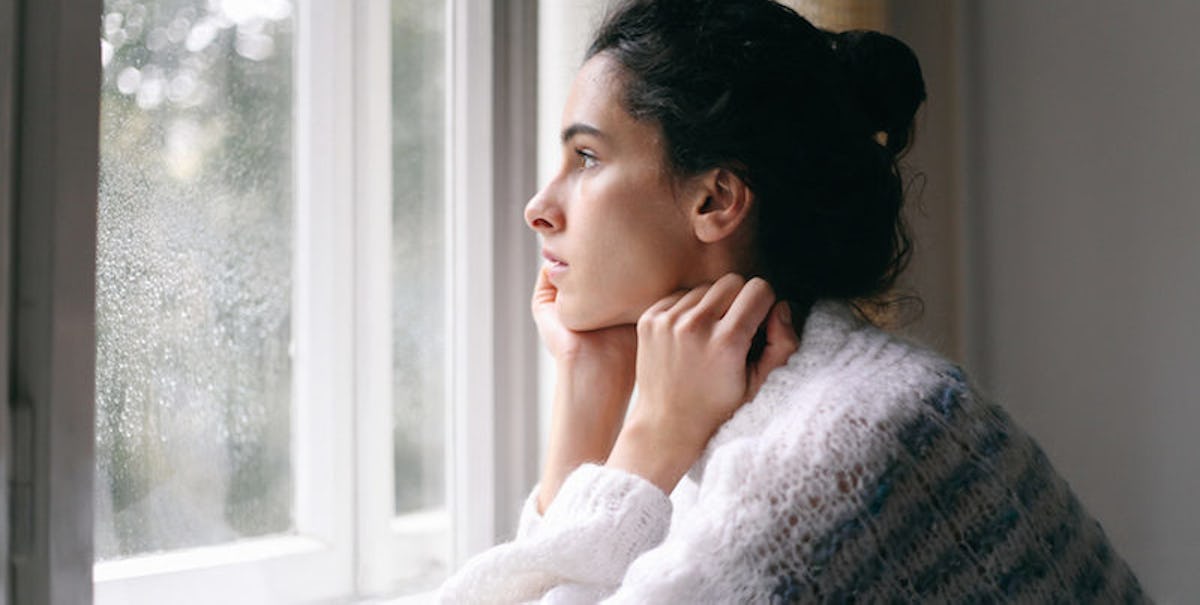 A Coat Is Just As Warm: 6 Steps To Beating Winter Loneliness This Year
With the holidays upon us, I would be lying if I said I wasn't a little nervous about loneliness.
Last year, I was madly in love during the holiday season.
My ex-girlfriend and I exchanged gifts, cuddled on the couch and celebrated the holidays amid our own secluded world.
There were few things we seemed to enjoy more than allowing a cold winter day to serve as an excuse for us to do absolutely nothing.
Unfortunately, that relationship came to an end shortly after our first winter together.
While I kept myself busy during the summer, I knew the holiday season would present a challenge.
Don't get me wrong; I love winter hibernation, but there needs to be a balance as cuffing season can be a one-way ticket to loneliness.
Below are six tips for combating that loneliness during this winter season.
Work out.
In my experiences, I've noticed that people tend to get lazy with their workout routine during the winter.
This makes sense, since the pressure to maintain a beach body is eliminated.
However, that lackadaisical approach to one's fitness is a huge mistake.
Considering how easy it is to get lazy during the winter, staying committed to a workout routine helps me not only looking good, but feel good.
If I'm feeling particularly lazy on a slow winter day, the consistent goal I set for myself -- if nothing else -- is to kick ass at the gym that day.
Not to mention, it is far more rewarding to cozy up on a couch after exercising than to simply cozy up all the time.
Get outside.
Oddly enough, walking my dog has taught me so much about the winter.
My dog is on the older side, and I've noticed summertime weather can be borderline paralyzing for her.
However, when it comes to winter time walks the cold has this incredible ability to invigorate my dog like she's a puppy again.
I used to view the winter like as a nuisance.
I hesitated to walk outside as I bundled up in layers, folded my arms across my chest and bitterly cursed the cold wind attacking my face.
However, the spark of my dog taught me a valuable lesson: Winter is an incredible opportunity to enjoy the outdoors.
One activity I've come to adore is snowboarding.
To be clear, I am an awful snowboarder.
However, with the right gear (jacket, snow pants, gloves, hat), wintertime activities can be thoroughly enjoyable.
Ultimately, when it comes to winter, I always think of the adage, "there is pleasure in pain."
It's painful to wake up early, put on snow gear and trek on a snowboarding trip.
However, once you find yourself gliding down a pristine mountain, breathing the fresh air as your body pumps extra adrenaline, it's easy to become addicted to winter time activity.
Party.
As a single man, it borderline infuriates me when all my single friends want to do on a weekend is play video games.
Even if it's cold outside, nightlife still exists.
In my eyes, no single man ever has a good excuse to miss an opportunity to party, socialize and have fun on a weekend night.
Of course, every city is different, and some of you may live in places that become ghost towns during the winter.
However, I live in New York City. No matter how cold it is, you are bound to find beautiful women occupying bars across the city.
So, get off your ass, get a drink in you and get out there.
Netflix and Chill the right way.
Outdoor adventures are certainly worth the effort during the winter, but there will inevitably be downtime.
When it comes to Netflix, it's easy to binge on the same, familiar shows season after season.
However, Netflix offers a wealth of under appreciated entertainment that ranges from informative and historical to powerful and moving.
Some of my favorite gems on Netflix are the documentaries.
And a particularly useful tool for finding gems on Netflix is Rotten Tomatoes.
Rotten Tomatoes has a "tomatometer" which you can use to sort Netflix options based on critical reception.
This meter introduced me to incredible documentaries like "Restrepo," which chronicled the first-hand experiences of soldiers exchanging gunfire in the Korengal Valley of Afghanistan.
Don't get me wrong; I love binging on familiar sitcoms.
But it never hurts to throw in the occasional Ted Talk or biographical documentary to add a little substance to a slow winter day.
Travel.
In general, it annoys me when people tell me to travel because if traveling were a financial possibility, don't you think that's exactly what I would be doing?
Many of us are not fortunate enough to travel during the holiday season, but even a weekend getaway can serve as a refreshing change of pace amid a slow winter.
So, go visit that old college friend for a weekend in their hometown or give skiing a shot.
If it's a possibility, hop on a plane and escape the winter for a bit.
Become more of a "yes" man.
It's so easy to fall into the habit of hibernating during the winter.
In the past, I would get invited to numerous social outings, but I would reject all of them purely due to my negative associating with winter.
I didn't want to deal with the cold; I preferred to hibernate.
However, the truth was that hibernation without moderation made me unhappy.
But in a strange way, being unhappy was far easier than making the effort to be happy.
So, take advantage of the invitations you receive this winter.
Whether it's the happy hour after work, the impromptu ski trip or even the opportunity to shovel some snow with your family, just get out of your house and get moving.
You won't regret it.