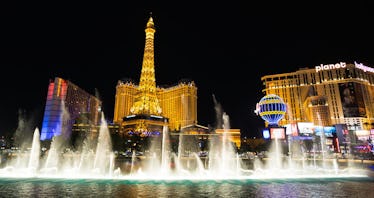 Why Las Vegas Is The Only Choice For Your Next Girls' Trip
Shutterstock
Let's get something straight: A girls' trip is always a good idea. No exceptions, no rainchecks, no maybe-next-times. No matter what's going on in your life, we believe that there's no ailment a girls' trip can't cure.
Lounging by a pool, dancing the night away, eating all the best food, all while you do some serious lady-bonding — a good girls' trip has everything. That's why Las Vegas should be your number one (read: only) choice for any and all upcoming BFF trips.
It doesn't matter if it's your cousin's bachelorette party or simply an excuse for you and your main ladies to escape normal life and become whoever you want for a weekend — Vegas is the one city that's guaranteed to check all the boxes.
Think of it this way: Most girls' trips fall into a designated category — the beach trip, the spa detox, the party-til-the-break-of-dawn weekend. And while you'll never catch us complaining about any of those itineraries, we'd prefer not to sacrifice any activity in favor of another.
Who says we can't have it all?
Here are five reasons why a weekend in Las Vegas is basically a rite of passage for the girls who deserve to have it all.
1. It's The Entertainment Capital Of The Universe
There's entertainment, and then there's Vegas entertainment. This destination is home to some of the most iconic shows since, well, ever. From mainstays like Cirque du Soleil and the Backstreet Boys at Planet Hollywood to newcomers like Magic Mike Live, there's no shortage of top-quality entertainment that'll turn a random night into one you'll never forget.
2. The Museums Are Anything But Dry
A museum on a girls' trip? Only in Vegas! In this city, even the museums feel like a party. Bask in the glow of Las Vegas' iconic restored signs at The Neon Museum or learn about the insane history of organized crime at The Mob Museum.
If you're looking to absorb some under-the-radar arts and culture, check out the breathtaking colors of the Akhob exhibit that's hidden in the back of a retail store. Does it get any cooler than that? We don't think so.
3. The Pool Parties Are On Another Level
This one's a no-brainer — going to Vegas and not hitting up a pool party is basically a cardinal sin. Rally the girls and head over to The Aquatic Club at the Venetian or The Pond at Green Valley Ranch for some low-key lounging and yummy poolside cocktails.
If your group is looking more for a party with a side of pool, Foxtail and Encore Beach Club both double as venues that offer world-class DJs and all kinds of entertainment, making them perfect for a little splashy groovin'.
4. You Can Dine And Sip With Million-Dollar Views
Call us crazy, but we believe that enjoying a meal while gazing at a great view automatically makes it taste 100-times better. And if there's something that Las Vegas has no shortage of, it's vistas.
Get 180-degree views of the city at Skyfall Lounge or a front row seat to the Bellagio fountains at GIADA. If you're in the market for a laid back dining and drinking experience with a setting unlike any other, Beer Park's 10,000-square-foot roof deck space is the perfect place to kick back.
5. Las Vegas Is Literally A Playground For Adults
A good girls' trip should be about fun and games from start to finish. If you're in the mood to throw it back to simpler days, Level Up at MGM is your place, providing everything from the world's largest game of Pac-Man to a laser golf course.
Seeking some fun that's a bit more grown-up? Toss your inhibitions out the window at JEWEL, which serves up unrivaled dancing and seriously modern luxury vibes. Or check out Heart of Omnia for an ultra-exclusive experience against a backdrop of LED screens and the best beats in town.