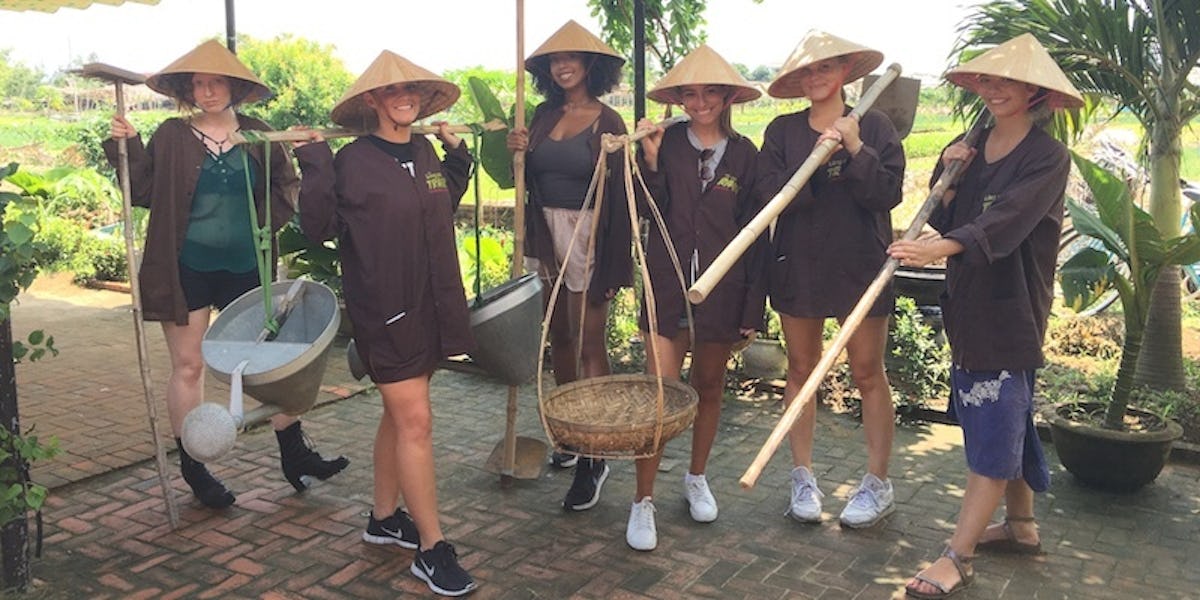 Why Traveling With A Tour Group In Your 20s Is Actually Underrated
Nina Ruggiero
"Vietnam is shaped like an 'S' because Vietnamese people are super sexy!"
Thanh, our guide, laughs at his own joke as he struggles to hold up a map of his country that's bigger than he is, its color-coded cities giving our bright hotel lobby a run for its money.
Just hours before, emerging alone from the longest flight I'd ever been on -- almost 18 hours with a stop in Hong Kong -- it was Thanh's smiling face that pulled me out of the fog as I stepped out of Da Nang International Airport and into the thick heat of Vietnam for the first time.
He was holding the sign I'd been looking for: "Topdeck" was scrawled freely across the page.
Up until that moment I didn't know how I felt about traveling with a tour group at 26 years old. I'd last done it as a sophomore in high school, and I felt like I'd become a pretty seasoned traveler since then, thank you very much.
I thought maybe I'd try it again one day if I happened to turn into the type of senior citizen who didn't mind wearing matching T-shirts in public.
But when I saw Thanh and his sign waiting for me, 8,507 miles from home, I felt nothing but relief. (OK, and excitement. This was happening!)
Now that I'm back home with memories to last a lifetime, a Vietnamese coffee stash to last at least a few weeks and a new group chat to complain to when said coffee supply runs dry, here's why I'd recommend traveling to a new destination with a tour group in your 20s.
No FOMO
I'm not a great planner.
Nothing gives me a rush quite like booking my next trip, but by the time departure day arrives, I've usually been so busy prepping for my absence at work I realize I've hardly had time to do my research.
This is a major issue, because I'm also terrible at handling regret. Nothing stabs me in the heart like realizing I went to a city without seeing its best art museum or trying its most talked about new restaurant.
Don't even get me started on wasting a night at a subpar, tourist trap bar.
Topdeck specializes in trips for 18 to 39-year-olds led by a guide who genuinely knows the area, and I often found myself opting to follow Thanh around, even on free days.
He never disappointed, whether we were wedging ourselves through motorcycles parked down a narrow alley to a tiny coffee shop for a cup of thick, sweet egg coffee or sitting in child-sized plastic chairs on a packed sidewalk eating heaping plates of stir fry pho.
I left each stop on the itinerary confident I had enjoyed my time there to the fullest, with minimal pre-trip effort on my part.
Insider perks
When I'm exploring a new city with friends, it's rare we spring the extra few bucks for the guide book or audio tour at each place we visit.
But traveling with Thanh meant we had a local in our ears everywhere we went -- without having to wear those embarrassing headsets.
When a rainstorm hit during our visit to Ngoc Son Temple in Hanoi, we huddled under a banyan tree and learned of the elaborate ways in which the Vietnamese honor the dead.
While driving through small towns and vast wetlands filled with cattle and water buffalo, we asked questions about the Hmong marriage tradition the Vietnamese translate to "pulling wife" -- in which a man "kidnaps" the woman he's interested in and keeps her at his house for three days while she decides if she wants to marry him.
We skipped the line for info booklets and climbed right into Halong Bay's Surprise Cave without missing a single notable rock formation. Having been many times, Thanh could spot a "lion" in the stone with the ease of a kid finding shapes in the sky on a cloudy day.
Less adulting
I'm going to be totally honest with you here.
As a traveler, I've felt the level of pride you can only earn by narrowly getting yourself out of some kind of near-catastrophe in a foreign land.
I've been hopelessly lost in bad parts of town, nearly driven an ATV off a cliff and found myself without a place to sleep after missing the final ferry, and I believe I'm a better adventurer for it.
But sometimes it's pretty damn nice to take in a new place without having to worry about logistics. Walking out of an airport and not having to figure out the best route to my far-away hotel while struggling with my over-packed suitcase was a luxury I had never experienced before.
Knowing there was someone to help me navigate the local pharmacy if I got sick was comforting.
Having someone remind me a 500,000 Dong note (about $22) looked a hell of a lot like a 5,000 Dong note (about $0.22) was appreciated.
I could get used to this, and I'm not ashamed to say it.
New friends
I love my friends in New York.
We have similar interests and many of the same problems -- we get each other.
But spending a week on the road with a group of strangers in Vietnam made me realize the best way to leave home behind and truly get away once in a while is to also leave the people.
Yes, traveling with a bunch of people you don't know can bring drama. But so can traveling with a bunch of people you do know, and why not switch it up a bit?
I'm thankful I shared this adventure with women I may never have met otherwise.
I learned about growing up in Japan and being an au pair in France. I got to debate the pros and cons of our totally opposite lives while stranded in a tandem kayak with a nomad from London.
(Turns out city girls aren't the best at outdoor sports, whatever city they may hail from.)
Sometimes we got into serious discussions about politics at trendy rooftop bars. Sometimes we drank wine in our pajamas and complained about dating.
Being in a new place with new people offered the baggage-free break I needed from my everyday life.
Tips for the tour-seeker
Find a tour that works for you.
With Topdeck I got to farm, bike, kayak, cook and do tai chi. But I also spent time wandering, shopping, sunbathing and eating. Lots of eating.
For me, that was the ideal mix of downtime and adventure.
But you may want a different type of trip. Think about the way you usually spend a vacation -- and what you look for socially.
Maybe you're an all action all the time type of person, or you want to avoid the cities and see more of the countryside.
Maybe you thrive on the autonomy that comes with a large group, or maybe you want the tailored experience that comes with a more intimate tour.
When looking at tour companies, pay close attention to itineraries, age range of travelers (if that's important to you), maximum group size, trip length and how many stops you'll be making in that amount of time.
Manage your expectations.
We all have our own budgets and schedules to manage. If you opt for a camping or hostel tour, remember you'll be roughing it a bit. If you signed up to visit six cities in seven days, realize you'll spend a lot of your time on the road.
If you go travel with a good tour company, there won't be too many surprises in terms of accommodations and itinerary, but you are going abroad and the unexpected can happen. Just prepare yourself and be realistic about it.
Pick a place outside of your comfort zone.
I've spent a lot of time in Western Europe, particularly Italy. I'm comfortable there, so I thrive on being my own tour guide. I probably wouldn't want a professional leading me around there.
But it was nice to have help in sorting through the chaos on my first trip to Asia.
I needed a nudge before walking into oncoming motorcycle traffic or biting into a bánh mì wrapped in newspaper from a street cart.
A tour isn't necessary everywhere, but it can be well worth it if it gets you to branch out in your travels.
Make the most of it.
I don't recommend you go on a group tour if you can't be easygoing.
Be honest with yourself. If you need to make the rules 100 percent of the time and are going to be that guy who complains every step of the way, do everyone a favor and travel solo.
But if you can, use a group trip as an excuse to loosen up a little and push yourself to be more open to new experiences.
Even on days I was jet-lagged and exhausted, I never regretted taking part in an activity. It was clear each stop was chosen for a reason, and I enjoyed some things (I'm looking at you, farming) far more than I had ever expected.