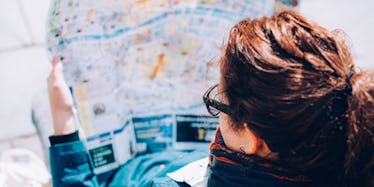 The Ultimate Travel Guide To Experiencing Most Of Europe In Under 5 Weeks
Europe doesn't seem all that big when you know what you're doing. In just five weeks, you can go from running into Platform 9 ¾ at King's Cross station to admiring Michelangelo's frescoes in the Sistine Chapel.
Yet while it isn't very big, it is complex and multi-layered, and you can easily find yourself overwhelmed by all it has to offer. You may not be able to dig very deep in those five weeks, but by following this plan, you will certainly fall in love and spark your love for both travel and Europe.
London, England
Where else to start your journey but in London? This hub of history, culture and nightlife is the mother of all European cities.
Take a walk down the banks of the river Thames, admire Big Ben, Westminster Abbey, Tower Bridge and the Tower of London. See the changing of the guard at Buckingham palace and spend a relaxing afternoon in Hyde Park after checking out Kensington Gardens.
Explore the streets of Soho and visit Borough Market for a culinary adventure.
Get a quick fix of art at the National Gallery, where entrance is free of charge all hours of the day, all year-round.
Conveniently, London is also the home of the largest airport in Europe. You can get cheap flights to all other major cities or take Eurostar to France and go anywhere from there.
Recommended stay: at least four days.
Paris, France
Once you are done in London, Paris is really just a train ride away. Regardless of whether you are traveling alone, with a group of friends or with your SO, the charming streets of Paris and the view of the Eiffel Tower will soon make you see why Paris is called the most romantic city in the world.
Stroll along the Champs Elysees and check out what's so awesome about Montmartre. Visit the many amazing cathedrals and churches of Paris – Notre Dame, Sainte-Chapelle and Sacré-Cœur are all must-sees.
Once you get a grip of this new, slower pace of life, reflect in the endless amount of chic little cafes and explore the many museums and galleries Paris has to offer.
Admire the works of Renoir, Degas, Monet and Van Gogh in Orsay or spend hours getting to know modern art at the Pompidou Centre. And if you're planning to visit the mother of all museums, the Louvre, make sure you have a whole day to spare.
Recommended stay: at least four days
Brussels, Belgium
You can never get quite enough of Paris, but when the time to move on does come, carve out a few days to visit Brussels, the political capital of the European Union.
Treat yourself with some genuine Belgian waffles and enjoy a dinner in one of the many restaurants located along the Grand Place, the city's central square. Explore the streets of the old city center and remember to take a selfie with the Pissing Boy.
Recommended stay: two days
Amsterdam, the Netherlands
Another train ride away is Amsterdam – the city of bikes, fries and weed. But don't let those stereotypes mislead you. Amsterdam is much more than just that, though exploring the streets of the Jordaan, Oude Kerk and the Red Light District actually is most fun while sitting on a big Dutch bike.
Don't forget to cycle all the way to the Vondelpark, the biggest park in Amsterdam, where you'll have a great view of the iconic I Amsterdam sign.
And while there, get lost in the Rijksmuseum or spend an educational afternoon in the Van Gogh Museum.
Recommended stay: four days
Berlin, Germany
For a quick change of pace, fly to Berlin. This place shaped people like Otto van Bismarck, Karl Marx, Albert Einstein and Adolf Hitler. This city went through more in a single century than most cities go through in their entire existence.
From being the center of the German revolution to being a Nazi meeting ground to getting bombed to pieces splitting in half and reuniting -- the city has seen it all.
For a history lesson you'll never forget, visit the remains of the Berlin Wall, Checkpoint Charlie, the Brandenburg Gate and the Reichstag building.
And if you have some time to spare, make sure to check out the amazing art collection on Museum Island.
Recommended stay: two days
Prague, Czech Republic
Prague offers a great escape from the more crowded and touristy European cities. This small Eastern European city is a hidden gem, although quickly gaining in popularity.
Spend a day strolling around the Old Town Square, snapping selfies in front of Prague Astronomical clock and walking the famous Charles Bridge.
Climb the hill overlooking the city to visit Prague Castle, the largest ancient castle complex in the world.
When the night falls, Prague quickly changes its color and the historic, cobbled streets become the place to be if you want to spend a crazy night out, learning about the different varieties of dark beer that Czech Republic is famous for.
Recommended stay: one day
Vienna, Austria
While you're still in the spirit of discovering the smaller cities of Europe, don't forget to spend a night in Vienna. Enjoy an afternoon of history and culture by visiting Schönbrunn Palace and Belvedere.
And since you'll likely only have enough time to check out one museum, make sure that you see the Albertina.
Spend the evening in the lively city center and treat yourself to a slice of the Sachertorte.
Recommended stay: one day
Budapest, Hungary
Take a train to the Hungarian capital and discover a whole new world. Walk down the Danube Promenade to admire the amazing bridges Budapest is known for: the Chain Bridge, Liberty Bridge, Margaret Bridge and Elizabeth Bridge.
Visit the Buda Castle (no, it has nothing to do with Buddhism) and learn about the city's  interesting history.
Spend the evening in one of the mysterious "ruin bars," which are unique to Budapest and offer a very special experience.
Recommended stay: one day
Rome, Italy
Take a train or a plane to Rome. You will notice a change of pace the second you breathe in that Mediterranean air.
Immerse yourself in the ancient culture by visiting the Colosseum, the Pantheon, the Roman Forum and the Circus Maximus.
Discover a whole new side of this many-faced country by entering Vatican City. Try to catch a glimpse of the pope in St. Peter's Square and admire the most famous works of Michelangelo in the Sistine Chapel.
Spend an evening sitting on the Spanish Steps, enjoying your gelato, casually observing the world go by, like so many around you.
Recommended stay: four days
Florence, Italy
If you need more of Italy, and let's face it, who doesn't, spend a couple of days in Florence. Tuscany is a world of its own and despite the touristy feel of the area, you can still find the old, laid-back soul of the region if you just know where to search.
You can choose to take the well-beaten path and snap a few photos in front of the Florence Cathedral, Giotto's Campanile, Ponte Vecchio and Palazzo Vecchio and even immortalize yourself in front of Michelangelo's David.
Or, you can decide to simply embrace Tuscany, take a few deep breaths and slowly sip a cappuccino in the middle of the town's square.
Recommended stay: two days
The French Riviera
If you can, rent a car and take a short road trip across the French Riviera, notorious for its glamorous beach resorts, teeming with the rich and famous. Stop in Monaco, Nice, Cannes and Saint Tropez and experience Côte d'Azur at its finest.
Recommended stay: two days
Barcelona, Spain
Drive or switch back to train. Fly if you have to. Just do whatever you can to get yourself to Spain. Start in Barcelona, the fairly-tale city of Gaudi's insane buildings and endless sandy beaches, stretching along the edge of the city.
Take a stroll down the busiest street, La Rambla, visit the Gothic Quarter, let yourself be amazed by the Sagrada Familia and find your childhood self in Park Guell.
Recommended stay: three days
Madrid, Spain
Finish your trip with a bang and get crazy in Madrid. There are no big monuments to visit, no must-see sights to take selfies in front of and no pressure to squeeze way too many activities into those few days that you have left. And that's perfectly fine.
Madrid is all about the experience of immersing yourself in the city. Just walking down the street will make you feel alive and alert.
This gives you all the freedom in the world to check out what Spain is all about. Take the time to explore Madrid for the culinary capital that it is.
The city is currently experiencing a food revolution and you can find a variety of regional and international cuisines like nowhere else. Try Valencia's paella, Basque pintxos (tapas), Catalan terrine with fig puree, Galician delicacies or Castilian suckling pig all in one place.
Madrid is also said to have more bars than any other city on earth, so this should give you the chance to say goodbye to Europe in style.
Recommended stay: three days