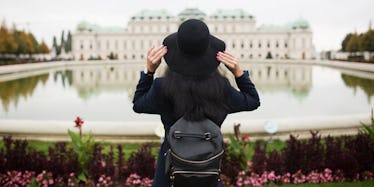 9 Cyber Monday Travel Deals To Cure Your Wanderlust On A Budget
I happen to have an incurable case of wanderlust.
Therefore, it should come as no surprise that I'm a firm believer in collecting memories over material possessions. So when it comes to splurging, I always treat myself with the gift of travel. I blow my paycheck on a plane ticket instead of some stupid purse.
Because let's be real: A new Chanel bag can in no way match the exhilarating experience of exploring a foreign city on the other side of the world.
Plus, everyone knows "travel is the only thing you buy that makes you richer."
If you thought Black Friday and Cyber Monday sales are solely for people who want to save big on material things like clothes and electronics, think again. It turns out you can also score some epic travel deals on the biggest shopping days of the year.
From hotels and tour operators to airlines and booking sites, you can find Cyber Monday travel deals for awesome destinations across the globe.
1. New York, New York
On November 28, Dream Hotels will be having a two-day sale that offers rooms for as low as $219 per night at the Dream Downtown hotel in New York City.
Plus, you can book your trip while supporting a good cause: Dream Hotels will be donating a portion of each sale to the New York Cares annual coat drive.
2. Miami, Florida
If you're in need of some serious R&R, Carillon Miami Beach is offering 25 percent off accommodations, plus a complimentary spa treatment, free valet parking and breakfast for two.
The holiday sale will take place from November 25 to November 28, and the promotion applies to rooms booked until October 31, 2017.
3. Las Vegas, Nevada
If you're looking to score a sweet deal in Sin City, The Cosmopolitan of Las Vegas is having a special promotion from November 25 to November 28. It offers a free second night's stay on one-night room bookings for certain dates from November to February.
4. San Diego, California
In honor of the holidays, Hard Rock Hotel San Diego will be having a four-day sale that starts on November 25 at 12:01 am. It will offer discounted rates starting at just $99 per night.
The hotel will also be having a special sweepstakes that gives the first 10 people who book a room with the Black Friday promo code a free night's stay. Plus, you'll also be entered for the chance to stay in one of the Rock Star suites for no additional charge, as the hotel will randomly be selecting five guests for a complimentary upgrade.
5. Mexico
If you're looking for a winter getaway, JW Marriott Cancun Resort & Spa in Cancun, Mexico will be having a sale from November 25 to November 28 that offers a 30 percent discount on bookings from December 9 to January 16, 2017.
6. Costa Rica
If Costa Rica is calling your name, Nayara Springs resort located in Arenal Volcano National Park is having a Black Friday sale that gives customers a 35 percent discount on four-night packages booked from January 1 through April 1.
This deal includes complimentary mini bar items, breakfasts and yoga classes.
7. Europe
From November 25 to November 28, Topdeck Travel – a tour operator geared toward Millennials – will be offering a 30 percent discount on all their European trips.
So now, you can score a nine-day trek through places such as Rome, Venice, the Swiss Alps, Luxembourg and Amsterdam for as low as $812.
8. International Tours
If you're down to do a guided trip abroad, the global tour company Friendly Planet Travel is having a 48-hour sale starting on November 28.
It offers savings of up to $1,100 per person or $2,200 per couple for over 50 tours and vacation packages for destinations such as Cuba, Ecuador, Dubai, South Africa, Prague, Thailand, Sri Lanka, Myanmar, Cambodia, New Zealand and Iceland.
9. Travel Booking Website Deals
If none of those trips tickled your fancy, you'll be glad to know the travel booking website Expedia is also getting into the holiday spirit. The website will be having sales starting at 9 am on Black Friday and Cyber Monday, which will offer a handful of discounts on hotels, flights, cruises, vacation packages and even rental cars.
Happy traveling.