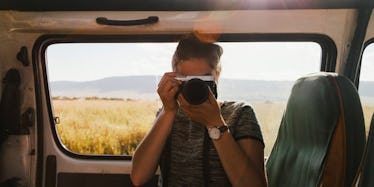 The Best Cyber Monday Deals For People Trying To Go Off The Grid In 2017
If there's one thing people usually know about me, it's I love to travel. 
I'm the girl already planning her next trip before I've completed the first.
I'm constantly looking up flight sales, researching new hotels and daydreaming about where's next.
Being the travel-obsessed, city-seeking, adventurist Millennial I am, it's no surprise my favorite holiday is upon us: Cyber Monday.
Most people think of the Black Friday/Cyber Monday shopping holidays as an opportunity to score a flat screen TV or a new pair of boots.
But I'm searching the web for travel deals.
Hotels, resorts, adventure tours and even airlines offer special promotions on Cyber Monday to encourage bookings and travel.
So, my fellow travel-enthusiasts, here are the best deals I've found for this Cyber Monday (November  28), for some of my favorite destinations:
The Caribbean
If you're looking for a relaxing vacation (i.e. laying on the beach with a mojito in hand), the Caribbean is the obvious place to go.
Try visiting the Zemi Beach House in Anguilla. It's a brand-new luxury boutique resort on one of the world's best beaches -- Shoal Bay East. 
You can take advantage of Cyber Monday and score 35 percent off all room categories, plus a daily buffet breakfast. Use code: CYBER16.
The Wyndham Grand Rio Mar Beach Resort & Spa in Puerto Rico has a 24-hour sale where you can save up to 40 percent from November 29, 2016 to March 31, 2017 using the code DISCYBM.
Lastly, you can visit the gorgeous island of Aruba and stay at the Hilton Aruba. 
Between November 25 and 28, you can book a 3-night stay to receive the fourth night completely free on stays from December through March 2017 via the resort's "Another Day in Paradise" package. Yes, please. 
Hawaii
Hawaii's leading hotel and resort management company, Aqua-Aston Hospitality, operates all types of properties, so there's something for every type of traveler.
It offers full-service resorts, stylish hotels and condominium resorts all for an affordable price that justifies the (usually) expensive airfare. 
You can score 20 percent off all properties and take advantage of no blackout dates.
Plus, those who are part of the A-List Loyalty Program can score the best-of-the-best deals a full day earlier just for being a member.
If Hilton is more your speed, the Hiltons of Hawaii offer you 14 properties to choose from across Oahu, Hawaiian Island, Maui and Kauai.
The Hiltons of Hawaii are offering a 4-day cyber sale from November 25 to 28. If you book during this time you can get 30 percent off the best available rate on stays from January 1 through June 30, 2017. 
New York
If you're looking to fulfill big city dreams, Cyber Monday is the perfect day to find good deals for visiting the Big Apple.
The boutique hotels in the Library Hotel Collection are offering unparalleled amenities and big savings for Cyber Monday.
You can save 25 percent off the best available rate by booking directly through the hotel site, with complimentary continental breakfast and a nightly wine and cheese reception. Cheers!
The Kitano New York Hotel allows you to experience Japan without ever leaving the US.
This is New York's only Japanese-owned hotel featuring spectacular rooftop views, live music and traditional Kaiseki cuisine.
On Cyber Monday score up to 20 percent off on visits between November 28 and March 31, 2016. The first 100 to book will receive complimentary breakfast and internet for their entire stay, and there's no blackout dates either. Use code: CMFMK.
At Manhattan's Park South Hotel, you can save $50/per room, per night when you book for travel through March 31, 2017.
Dine at the hotel's collection of restaurants by James Beard Award-Winning Chef Tim Cushman including O Ya NYC, Covina (don't leave without trying the pizza) and Covina Café. 
Charleston, SC
Guests interested in visiting Charleston's only waterfront hotel in the Historic District can book a discounted stay at the HarbourView Inn.
Available to book for a 72-hour window, rooms come with an array of complimentary daily amenities. (Think fresh baked cookies before bed and welcome mimosas.)
Rooms with views of the Charleston harbor are reduced by 25 percent for stays from November 28, 2016 through February 9, 2017.
Enjoy true "southern hospitality" at the historic Andrew Pinckney Inn which was built in the 1860s.
Score 35 percent off on bookings from November 28 through February 16, and 25 percent off on bookings from February 17 through December 31, 2017.
California
Ideally situated in the bustling center of SoMa (South of Market Street) San Francisco, Hotel Zetta is a boutique hotel offering a unique enclave for savvy travelers, culture seekers and local creatives (aka Millennials).
Grab 30 percent off rooms when booked between December 1, 2016 and December 1, 2017. That's a full year booking window!
Located on the iconic Ocean Avenue, the Viceroy Santa Monica embodies California-living at its finest, providing visitors with a luxe beachside experience unlike any other.
On-site amenities include access to two plunge pools surrounded by chic cabanas and a restaurant by executive chef Larry Monaco.
Score 30 percent off rooms when booked between January 1 and March 31, 2017.
Bon voyage, friends! Happy hunting for travel deals.