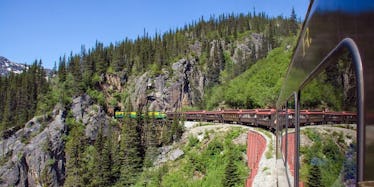 This Train Will Take You To A Gorgeous Destination Spot And It's Cheap AF
Rocky Grimes/Shutterstock
Have you ever wanted to go on a trip by train that reminds you of the historic 1900s Gold Rush? Well, I never thought of it either until I learned about the cheap train rides to Yukon and Alaska that are beautifully scenic and won't leave a dent in your bank account. The train ride I'm talking about is called Alaska's White Pass and Yukon Route Railroad, and it honestly looks like a dream vacation.
The views you'll see on this train ride are ones you'll never be able to see by car, and they're so highly regarded that this railway has been dubbed an International Historic Civil Engineering Landmark. This railway was constructed and finished in the early 1900s, and though it was finished by the time the Gold Rush was over, it is still used today.
The trip begins in Skagway, Alaska and goes up 2,865 feet up to the White Pass Summit. The train ride takes you through two tunnels and over Dead Horse Gulch and Bridal Veil Falls. The three and a half hour ride is fully narrated so you'll be up to speed about where you are.
The only downside is that you only have until Sept. 28 to book your trip for the 2017 season, so hurry up and get your $122 ticket for adults and $61 ticket for the kiddos while you still can.
If you want to make this a longer, more international, trip you can opt to go on the Bennett Scenic Journey which takes you to Carcross, Canada — so don't leave your passport at home. This trip includes boxed lunches and stops at the Bennett Station House, which is only accessible by train or by hiking, so you know it's uber exclusive.
Once in Carcross, you can even do an overnight stay and return on the train. This trip will cost you a little more ($229 for adults and $114.50 for kids) but that's not a bad deal considering the amazing excursion you'd be enjoying.
IDK about you guys, but I'm going to book my trip before it's too late.