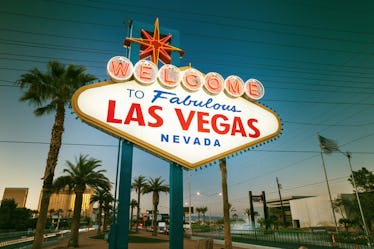 How To Spend A Weekend Of Clean Living In Las Vegas
Odyssey Stock
If you're anything like us, you're probably in desperate need of a weekend getaway (understatement of the year?). And while late nights and clinking cocktails will always hold a special place in our hearts, lately we've been more into the idea of a few days of clean living. Instead of returning from a trip hungover and exhausted like we usually do, we'd much prefer to return to the real world refreshed, relaxed, and frankly, a better version of ourselves.
And our latest fave self-care destination is fabulous Las Vegas, Nevada. Of the million things that keep us coming back to this destination, we gotta say that its wellness scene is what ultimately tops the list.
From wacky workouts to raw eateries to healing spa treatments, Las Vegas is a treasure trove for anyone looking to live a little cleaner. Set all of this against the expansive desert backdrop, and what you get is a weekend escape that's as epic as it is healthy.
Since self-care is all about cutting back on life's unnecessary stresses, we've taken the liberty of putting together a guide for the Vegas wellness retreat that you deserve.
Save your energy for treating yourself.
Here's exactly how to spend the cleanest weekend of your life living it up in our favorite mecca of mindfulness.
1. Work Out Like You Never Have Before 
A weekend of clean living wouldn't be complete without a good sweat — there's just something about working out that energizes our minds and refreshes our souls all at once. And when you're in Vegas, working out means a whole lot more than just pounding the treadmill.
Craving the peace of a yoga class? Why hit up a studio when you can take a helicopter to the top of the Valley of Fire for a private session atop breathtaking rock formations or perfect your downward dog among the dolphins at The Mirage?
In the mood for something a little more refreshing? Vegas Glass Kayaks lets you (quite literally) immerse yourself in the Colorado River as you spend the day paddling in a crystal clear kayak.
2. Feed Your Soul With Some Art
Get back in touch with your artistic side by taking in Las Vegas' art scene. Let the Seven Magic Mountains installation blow your mind with its colors against the desert backdrop, or nourish your body and your mind by taking an actual indoor hike through the ARIA Fine Art Collection.
But it doesn't stop there — in Vegas, it seems like art exists everywhere you look. Even a casual downtown stroll will take you across street art murals from the likes of Shepard Fairey, D*Face and so many more.
Can you say photo-op? 
3. Find Your Zen
Your body and your soul aren't the only things probably in need of a refresh — a detox weekend is the perfect time to quiet your mind with a few minutes of meditation.
The Red Rock Spa and Mandarin Oriental both offer top-notch guided meditation, or you can center your thoughts in the chicest way possible by dropping into a Silent Savasana class at Red Rock or Green Valley Ranch.
Channel an age-old practice of purification at The Cosmopolitan's Sahra Spa & Hammam, where you can experience their signature renewing rituals, heat treatments, and revitalizing baths.
4. Eat Cleaner (And Better) Than You Ever Have Before
Look, just because you're embracing clean living for a weekend doesn't mean you shouldn't expect to eat like a queen. (A clean queen, that is!)
Taste the true meaning of farm-to-table at Bellagio's Harvest, or embrace the raw food life at SUGARCANE. Want to cut back on animal products? Local veggie favorite Vegenation boasts a 100 percent plant-based menu that includes everything from reimagined global street food to a little number called the "fruit loop salad."
One of everything, please, and thank you! 
5. Live the spa life
Sometimes the best path to becoming energized is through some serious relaxation. And our favorite place to relax? You guessed it — the spa. In Vegas, a spa pass will grant you access to so much more than a run-of-the-mill pamper sesh.
You can chill out by breathing cold air infused with mint (yes, really) in the Arctic Room at Qua Baths & Spa or seek skin and respiratory healing in a Himalayan Salt Cave at The LINQ.
If you're in the mood to be transported somewhere entirely different, SpaClub at Canyon Ranch is a necessity — here, you can expect treatments (nay, experiences) ranging from herbal-infused humidity to multi-sensory simulated rain showers. Talk about redefining what it means to be a spa!