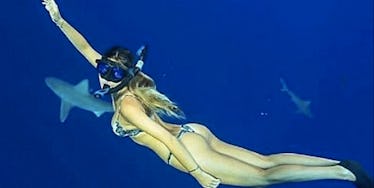 Hot Law Student's Sexy World Travel Pics Will Give You Way More Than Wanderlust
Instagram
Somebody open a window, please.
Nevermind, close it. It's still cold as balls outside.
Still though, someone should turn on a fan or something, because Sarah Kohan is an absolute smoke show.
Kohan, an Australian law student from Sydney, has become a huge hit on social media after posting insanely sexy pictures of herself as she documents her travels across the world.
The 22-year-old student, who completed exchange courses at Harvard University and Columbia University, already has 290,000 followers on Instagram.
During her school breaks, Kohan traveled far and wide, swimming with dolphins, whales, sharks, sting rays and pigs (oh my!), and captured each experience with incredible Instagram photos.
Right now, she's on track to graduate from Notre Dame in June, and she hopes to intern one day with the International Criminal Court in the Netherlands. Kohan told Daily Mail Australia that her favorite moments have been when she was fortunate enough to interact closely with wildlife.
"When I'm underwater and swimming with a whale, it seems like nothing else matters — seeing an animal in their element and being able to interact with them without feeling scared or them feeling vulnerable — that's nice to see," she said.
My ass has never looked that good doing anything, and it certainly wouldn't look like that when swimming with sharks.
Seriously, her ass looks better than my face.
Ugh, just look at her, all cute and coy, looking off into the distance, as if she has no idea that her hundreds of thousands of followers adore her.
Kohan says she hopes to break the stigma surrounding sharks one day.
"They're beautiful creatures and so unique. People always need to be respectful of their surroundings and appreciate that they are just a beautiful animal."
Girl, you can break my stigma any time you want.
Citations: A nature-al beauty! Meet the 22-year-old law student who travels to the world's most exotic locations to take photos with incredible sea creatures (Daily Mail)