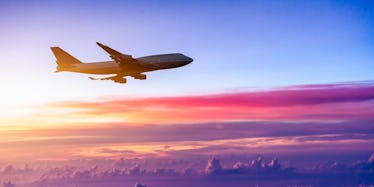 This Airline Is Offering Flights To Europe For $99, So Pack Your Bags Immediately
Shutterstock/ 06photo
In the summertime, there's one thing I can't stop thinking about: traveling! And thanks to Primera Air, it's about to get a whole lot cheaper to fly across the globe. The Scandinavian airline with super low ticket prices recently announced its new routes, which include two bases in the United States (one in Boston and one in New York). And guess what? Primera Air will offer $99 flights to Europe in 2018.
I know, this is exciting news. You should probably start packing your bags immediately.
As of July 20, you can purchase a ticket for that ultra-low price, Primera Air announced in a press release. However, as I mentioned before, your travel dates will need to fall sometime in April or beyond.
The airline sounds perfect for those of us trying to book a long getaway to Italy's Amalfi Coast (that's not just me, right?) or even just a quick business trip abroad. And that's the kind of vibe Primera Air executives are trying to create.
President and Chairman Andri M. Ingolfsson said in a statement,
We are very proud to announce our new bases and routes to the U.S. With our brand new Airbus A321neo airplanes, we will operate routes traditionally served only by wide-body aircraft. Owing to unmatched efficiency of these new-generation aircraft, we will be able to offer unprecedented prices to passengers from France and the UK to the US. At the same time, we are very excited to offer a product and service concept that merges low fares and high quality -- perfect both for leisure and business travelers.
The downside?
If you want amenities, you have to pay more. Condé Nast Traveler reports that choosing your own seat will cost you $45. Likewise, a premium meal will set you back an additional $70. And — probably the most upsetting — their one-way bag check fee is $45.
I guess when it comes to transatlantic flights, you get what you pay for.