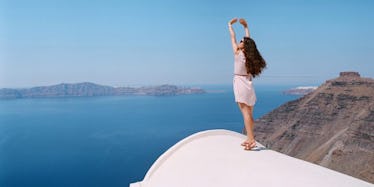 7 Places You Should Go For Spring Break If You're Single And Ready To Party
Traveling while single is liberating.
I mean, of course it's nice to share your adventures with someone, but it's also fun to do whatever you want without feeling guilty or having to check in with your significant other.
No, I'm not here to bash on the couples out there traveling. I just want to let my single people know about the great places they can explore.
Did I mention it's even better to do these things on your own? If you want to get out of you comfort zone, there's no better test.
So if you want to experience culture, center yourself, party hard and also happen to be single, here are some of the best places to be a free bird:
1.  Barcelona, Spain
In Barcelona, you will find everything you are looking for.
The streets are filled with liveliness, art, culture and parties! One of the many things the Spanish are good at is partying 'til dawn.
Here is where the "siestas" come in handy. They'll help you recharge for the rest of the day.
Barcelona attracts diverse people, and no matter the season, you can find travelers from all over the world.
You're basically traveling to tons of different countries while visiting this one city.
2. New York City
Of course, the city that never sleeps made it to this list.
There are so many things you can do here. Do you want to go to a bar for the night, or take a stroll around the city as it illuminates?
The best thing is, when the warm weather starts to make a presence, the open rooftop bars give you incredible views of the city, and boats transform to cocktail bars.
As a major city in the world, NYC also attracts international people, and you can hear the many languages in the streets.
3. Corfu, Greece
It's not Mykonos or Santorini, but this Greek island is just as gorgeous and exciting.
When you typically think of Greek islands, you expect white houses with blue doors and shutters. But not in Corfu.
The Italian-influenced island has colorful houses with tight alleys the lead to cute gardens.
Renting an ATV or a scooter (if you have a motorcycle license) is the best way to get around. You can obviously rent a car, but it's not as fun.
The various towns in the island offer different vibes. Ipsos' main road is filled with restaurants that turn to night clubs as the sun sets and the bars open.
The Old Town of Corfu gives you a history of the island with open markets that fill the streets. Head up north to Sidari, where you can cliff jump into the Ionian Sea.
4. Baños, Ecuador
The reason it's called Baños is for the popularity of its hot baths.
In between the countryside and the Amazon region, Baños offers a tranquil energy that allows you to indulge in nature.
If you want a boost of adrenaline, this is the home of the famous Swing at the End of the World.
You can also zipline through the Andes Mountains or visit El Pailón del Diablo, one of the most spectacular waterfalls in Ecuador.
5. Paris, France
I know it's not an ideal place to visit since it's known as the city of love, but I've explored this city single and wouldn't have wanted to do it any other way.
Life is all about falling in love with yourself first, so why not do it in such a beautiful city?
You can be in Montmartre walking through the artsy streets or in Champs-Élysées watching the Arc de Triomphe slowly light up.
There's a guarantee you will fall in love with the city.
6. Miami, Florida
If I could describe this city in one word, it'd be sexy.
Everything here is ridiculously attractive, and the sex appeal is on a whole other level.
As a single person, why not embrace your sex appeal here? It might be awkward for someone who is shy, but trust and believe there's no need to be ashamed when it's the norm here.
Miami Beach is a 24/7 party, and Ocean Drive always has the music bumpin'. You can also head up north to Fort Lauderdale for a calmer, but still lively area with nice beaches.
No matter where you go in Miami, the views are great, the water is warm and the food is incredible.
7. Cinque Terre, Italy
Located on the Italian Riviera, five villages make Cinque Terre: Riomaggiore, Manarola, Corniglia, Vernazza and Monterosso.
The five towns are built up on the rugged coastline of Italy with colorful houses looking down at the Mediterranean Sea.
Although the villages might look the same, there is a unique vibe for each one, which means you need to visit all of them.
Being that these villages are built on cliffs, be prepared for a lot of steps and walking, but it's all worth it.
Going to the highest points of each village gives you a spectacular view of land and sea.