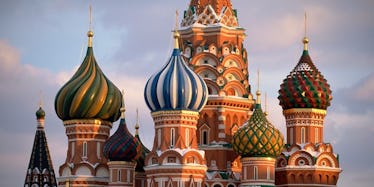 5 Places To Move This Year If You're Looking For A Totally New Career
The world is rapidly changing along with our geographic and political landscape.
Today, millennials looking to build their lives seek more freedom, more flexibility and a better work-life balance than previous generations.
Employees seeking to attract millennials must adapt to these changing demands, and some places have adapted better than others.
Cities looking to attract millennials have been forced to modernize, prioritize community and make room for students and non-traditional workers to find entertainment, sociability and comfort in these urban hotspots.
Millennials looking across the world for a place to build a life and call home have a variety of exciting options ahead of them.
Here are five of the world's best places for millennials in 2017:
1. United Kingdom
The United Kingdom, a longtime global hotspot, still holds strong appeal for millennials in 2017.
The nation is an increasingly diverse cultural center, despite recent political moves, and its rich history remains a powerful draw for the literary, the artistic and the cultural.
Cambridge, Reading, Oxford and Exeter, four cities with long and fascinating histories, are rife with job opportunities for millennials looking to start a career, with up to 10 vacancies for every applicant.
The nation is small enough that a motorist can drive from top to bottom in less than a day, which means any spot in England, Scotland or Wales is within your grasp for easy weekend vacations.
2. Costa Rica
According to the Happy Planet Index, Costa Rica is the happiest country on earth.
This has been attributed to a government that diverted army funds to education, health and pensions, all of which contribute far more to a nation's wellbeing than a large militia.
The nation also boasts a culture of strong social networks and ties, avoiding the isolation that leaves many American and European millennials feeling lonely and disconnected.
The nation is a cultural melting pot in Latin America that draws people from across the globe looking for economic opportunity in a beautiful, balmy, beachy environment.
The cost of houses and other expenses is much lower than most European or North American cities, making it easy for millennials to establish a new life in this beautiful country.
3. Russia
Russia is an excellent place for English-speakers looking for an experience abroad in the short term.
Although the Russian ruble is unpredictable, jobs that pay in dollars offer excellent pay security in the country, and native English speakers have a wealth of job opportunities available to them willing to offer such an income.
Moscow in particular has recently invested in strong training opportunities in entry-level positions for millennials looking for an experience that can also add to their resume.
The city is transitioning with the goal of becoming a hub for programs aimed at equipping students and young people with the experience and training to become strong workers.
Expats report the nation is also easy to socially integrate into, helping the transition for many and staving off potential isolation in a foreign country.
4. China
One of the most potentially lucrative options for millennials looking for a city with high income and low cost of living is most of industrialized China.
The nation boasts outstanding incomes for expats, and almost 25 percent of expats report incomes of more than $300,000. The country is starved for experienced white-collar employees, making it rife with opportunity for North American and European millennials.
Knowing multiple languages will give incoming millennials a leg up in the job market, and the nation has many cultural hubs for millennials to explore in their free time with their excess income.
5. United Arab Emirates
Dubai is one of the world leaders for training employees, giving millennials looking to start their careers an excellent base to build off of.
The city has avoided the impact of a recent recession, and young employees have the attention of the government looking to protect its changing workforce.
Forbes described it as "a place to nurture young families," with national policies in place to protect parents and maintain a comfortable work-life balance.
Millennials looking to travel for their careers have a wealth of opportunities ahead of them in 2017.
Cities looking to attract a new workforce are learning to adapt to the needs of a generation that desires a strong social life and ample family time.