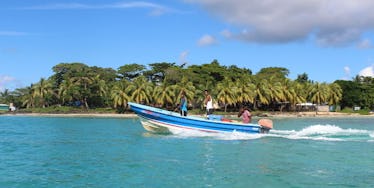 Add Nicaragua To Your Bucket List If You're Young, Broke And Looking For Adventure
Georgina Lawton
Nicaragua is full of stunning surprises.
Its reputation as backpacker heaven is only really emerging now, as the country is still taking its time to scramble to its feet after a bloody revolution which raged from 1978-1990.
But today, the country that shares borders with Honduras and Costa Rica is widely recognized as one of the safest Latin American spots for travelers. And that's just one of the reasons to head there.
With a ridiculous amount of head-turning scenery (including volcanoes, mountains and waterfalls aplenty), eclectic nightlife (where the country's two most famous alcoholic exports, $1 Toña beer and Flor de Caña rum, flow freely) and nearly untouched Caribbean islands, Nicaragua is as beautiful as it is diverse.
Hostels and hotels are dotted everywhere for all budgets, and flights from NYC to Managua (the capital) are affordable with Spirit or JetBlue.
Allow me to break down the highlights, as I've come to discover them, after spending two months traveling solo in this stripped-back and super-cheap Latin paradise.
León
Good for: volcano boarding, learning Spanish
The city of León is famed for its volcano boarding – and yes, that is exactly what it sounds like.
For $20-25 you'll be taken up to the (dormant) Cerro Negro volcano by a local guide who will fit you with some seriously unsexy boiler suits and instruct you on how to slide down the steep hill. You can't do this anywhere else in the world.
But if that's not your thing, wandering around the colonial city of León will provide endless photo opportunities (the yellow Iglesia La Recolección church, for one) and there are plenty of backpacker hostels and traditional Nica bars that sell the ubiquitous Toña beer.
Also, don't leave the city without sampling the delicious pastries at Paz De Luna bakery.
I spent three weeks in León to learn Spanish with the well-run Metropolis Spanish School in the city center.
For $230 a week I received four hours of tutoring with a skilled local teacher, all meals and board with a friendly Nicaraguan family and two local excursions.
When I realized a month of living like this was less than what I used to pay just for rent in Brooklyn, I seriously considered applying for Nicaraguan residency.
Ometepe
Good for: hiking waterfalls and volcanos
Head to Ometepe, an island of outstanding natural beauty, for your activity fix.
Accessible from the mainland by ferry, Ometepe houses two volcanoes and climbing these isn't for the faint of heart. The largest, Volcano Concepción, will take up to 11 hours round trip, and Volcano Maderas, the smaller, eight hours.
Both cost upwards of $30 to hike with a mandatory guide, but if you're lazy like me, get a few pictures with the volcano in the background and opt for the almost as impressive San Ramon waterfall trek instead, which is just under 4 miles walking in total.
Ometepe island is deceptively large and it's a good idea to rent mopeds or motorbikes to explore the whole thing in its entirety. But if you fall off within the first five minutes like I did and get banned from driving one, almost all hostels and hotels will rent you a bicycle, too.
A backpacker favorite, Ometepe has an abundance of "hippy hostels," but with all that activity you're going to want to relax somewhere tranquil and gorgeous, like Hotel Omaja, which is 20 minutes from the waterfall.
I enjoyed a chilled-out stay there with incredible, sweeping views of volcanoes and the sea from what was the finest infinity pool I've ever had the pleasure of swimming in.
Grenada
Good for: wandering around, excursions
Even though I contracted food poisoning from some street food here (not fun), Grenada was a favorite location of mine.
With its gorgeous colonial architecture, palm tree-lined streets and a thriving backpacker community, I found it easy to meet people and arrange activities.
A night tour of the live Masaya volcano (yep, another one) was epic, as the lava glowed visibly in the dark and I also explored the serene Lake Nicaragua by boat ($30 for both with English-speaking guides from Allah Tours, in the centre of the city).
Corn Islands
Good for: diving, partying
When you're done with the mainland, return to Managua for your flights to the Caribbean part of Nicaragua known as the Corn Islands (there are two) where chilling out is practically mandatory.
I completely fell in love with this coconut tree-lined paradise where locals speak Spanish, Creole and a local language called Mestizo and the sea is as clear as glass.
Both islands are just now opening up to tourism, but the smaller one, known as Little Corn, is more popular with travelers due to its abundance of buzzing beach bars and barefeet-everywhere vibe.
For gorgeous beachfront views and amazing food, stay at the stunning Las Palmeras Hotel, where you're guaranteed delicious bar food, fun late-night convos with the two Canadian managers and a tranquil swim on their beautiful beach.
However, if you like your beaches quiet, you've got more chance of having one to yourself on the larger of the two islands, Big Corn, which is inhabited mainly by locals.
Arrange a dive or snorkel with the amazing Dos Tiburones dive shop, where the expert instructors will take you out on the crystalline waters and show you a selection of tropical fish.
And for the best food on Big Corn, don't miss out on the delicious, traditional Caribbean dishes at Seaside Grill, where you can try their incredible lobster burger or traditional "run-down" dish (a Caribbean stew comprised of fish, plantain, shrimp and lobster).
Get to Nicaragua before everyone else does... you won't regret it.