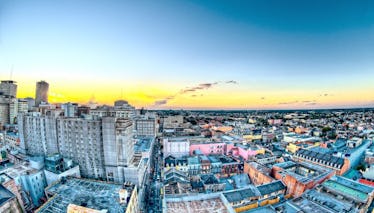 Why New Orleans Is The Most Magical City You Can Visit This Spring Break
Scott Webb
There's nothing I love more than a good trip. All of the sudden, I get the urge to go somewhere and break up the monotony of daily life or escape the stressors constantly surrounding me.
The planning, the flight searching, figuring out what I'll do and what to pack -- I love all of it. It's a rush, one I'm happy to pursue.
Spring break used to be my favorite time of year when I was in school. Any break in work was great for me, and I've almost always taken advantage of it.
There's something about stepping off the plane in a new airport or watching the state lines disappear from the driver's seat that gives you fresh perspective, you know?
In 2008, when I was a senior in high school, my parents decided it was time to go to New Orleans. My grandfather had just passed, and we needed to get away for a beat. I was sad, but I was excited to go somewhere new.
It was because of that trip that I love New Orleans.
All aboard for a midweek adventure! Photo: @rodboyer #followyournola A post shared by Visit New Orleans (@visitneworleans) on Feb 15, 2017 at 10:49am PST
For anyone looking to head somewhere different for this spring break, I cannot recommend the city enough.
There's absolutely something for everyone.
Sure, New Orleans has seen its fair share of devastation, but it's a city of resilience, a city that can pick itself back up again and restore itself to the shining beacon of the South that it is. It has just so much going on.
If this is what a longer winter looks like in New Orleans, we'll take it. Photo: @c.respo #followyournola A post shared by Visit New Orleans (@visitneworleans) on Feb 6, 2017 at 3:33pm PST
The people of New Orleans take their culture and traditions very seriously.
French Quarter strolls: NOLA's personal form of time travel. #followyournola A post shared by Visit New Orleans (@visitneworleans) on Jan 28, 2017 at 1:10pm PST
It's different from a place like New York or LA, where you're just sort of wandering around and don't get a sense of a unified culture. Plus, everyone is always so busy there and not always friendly.
In New Orleans, they pride themselves on their culture and traditions, and they're eager to share them with you.
Bourbon Street is just as fantastic as you thought it would be.
There's music pouring out of the bars and clubs. The pavement is sticky with spilled drinks and beads stick haphazardly out of sewer grates. It's teeming with life and the energy is palpable.
If you're more of a foodie, then you've come to the right place.
It's become a hotspot for famous chefs and is home to chefs you definitely want to get familiar with.
There's Creole food, greasy spoons, plates and plates of Jambalaya, red beans and rice, muffalettas and beignets so good you'll be going back for more. There's endless amounts of seafood, decadent French pastries and enough salt water taffy to glue your mouth shut.
The city is filled with history.
It's a city that has seen devastation, but it's a city that prides itself on always coming back. It's where the Mississippi River ends, and where the French blended their culture with early settlers.
The architecture is riveting, and the city is teeming with all manner of historical tours that you can take. It's a city with many stories and secrets.
Plus, there's voodoo.
If history isn't your thing, but you're super into secrets, you may find yourself interested in another major aspect of their culture.
Palm readers line the streets, tarot card signs burn neon in shop windows and there's no shortage of graveyards. The city is known for its supernatural properties and its history of vampires, witchcraft and all manner of things that go bump in the night.
Ghost tours take place during the day for those a little nervous and at night for the brave.
I mean, there's a reason "American Horror Story: Coven" was set there. You can even visit Madame Delphine Lalaurie's home where she killed all those people! If you're into that sort of thing, I mean.
So yeah, New Orleans is a city that has something for everyone. The people are kind, the atmosphere is electric and there's always something to do. It's different, but still gives you that fun and exciting spring break retreat you're looking for.
So, grab a drink and a beignet and set your sights on Louisiana!