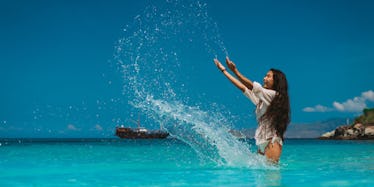 10 Island Getaways You Need To Add To Your Travel List For 2017
Alexander Grabchilev
If days of lying on sandy beaches and relaxing to the sound of gentle water lapping nearby is your idea of a perfect vacation, then there are some top vacation spots in the world you need to consider.
While some may want to head to a top Hawaii luxury vacation rental, there are some other places that vie for the spot of most beautiful island in the world.
Before you book your tickets, consider these best island vacations:
Con Dao, Vietnam
This exclusive island getaway is located off the southeast coast of Vietnam.
This is a great place for diving among sea cows. From June to early September, expect to see turtles laying eggs on the beaches.
Relax on Ong Dung Beach or Dam Trau Beach, or stay at a resort located on the scenic An Hai Beach.
Gili Trawangan, Indonesia
Gili Trawangan is located off the northern tip of Indonesia.
Dive amid loggerheader and green turtles, and see the baby turtles at the specialty sanctuaries. British freediving world record holder Mike Board operates a training school here, and surfers often find ideal conditions.
The island is also free of all cars, so visitors walk everywhere.
Pico, Portugal
Located in the Azores of Portugal, this island offers something for everyone.
Climb the highest mountain in Portugal, or swim in the largest man-made salt water pool in the world.
You can also explore the Gruta das Torres lava cave and ride a donkey around the island.
Scrub Island, British Virgin Islands
Scrub Island is in the Lesser Antilles.
In this tropical paradise, you can spend lazy days on three pristine beaches.
Almost consistent gentle winds makes this a sailing paradise, and record-breaking tuna and marlin fish are routinely caught in the waters near this island.
Oahu, Hawaii
Hawaii has several beautiful beaches. While Honolulu is the largest city on Oahu, those looking for an exclusive vacation trip will want to head about 25 miles away to Paradise Point.
This Hawaiian island vacation paradise was selected by President Obama during for his 2008 and 2011 Hawaiian vacation.
Making this the best Hawaii luxury vacation rental is the beautiful 2.5 mile Kailua Beach, which is one of the most beautiful Hawaii beaches.
Skopelos, Greece
Skopelos is the largest of the Sporades Islands lying east of Greece's mainland.
Visit the Folklore Museum to learn more about this island's fascinating legends, and eat the island's many dishes created with the native plums.
Read a book on the island's five beaches, and see the island's 360 churches, including some of the oldest in all of Greece.
You can also hike along the island's many trails through the lush forests.
Caye Caulker, Belize
This tiny island is located just a mile west of the Barrier Reef, and budget-minded travelers need to consider this destination for 2017.
Backpacking is very popular on this island because it only has three roads.
Plan your trip to coincide with an Audubon birdwatching tour through the Forest Reserve. Watch the locals feed the sharks at Shark Ray Alley, or join in the fun yourself.
If your idea of a top vacation is chilling out, then this island is for you.
Flatey Island, Iceland
While Iceland may not be the first place you look for an island vacation, make sure to consider Flatey, which is one of the largest islands in Breidafjordur Bay.
Visit a church that was built in 1926 to see the local artwork inside, and really go off the grid for your entire vacation.
Gozo, Malta
Legendary as the Calypso's isle in Homer's Odyssey, Gozo is located in the Mediterian Sea.
Divers absolutely love the crystal-clear water.
You can explore the panoramic beaches, and the rugged rural landscape make it a great place for hiking and for stargazing.
This island also features a centuries old temple that is fascinating to explore. Photographers can find many scenic places to shoot on this hidden island.
Musha Cay, The Bahamas
If you are looking to get away from everyone else, then consider Musha Cay in The Bahamas.
Diving just offshore is a popular past time, as is deep-sea fishing. Guests to this resort can even challenge their friends to a treasure hunt made just for them.
A stay at this resort is highlighted by a personal fireworks show.
Travelers looking for the best island vacation can choose from several different options, so don't overlook unusual locations like Iceland or Vietnam. Plan your vacation now to one of these island destinations.