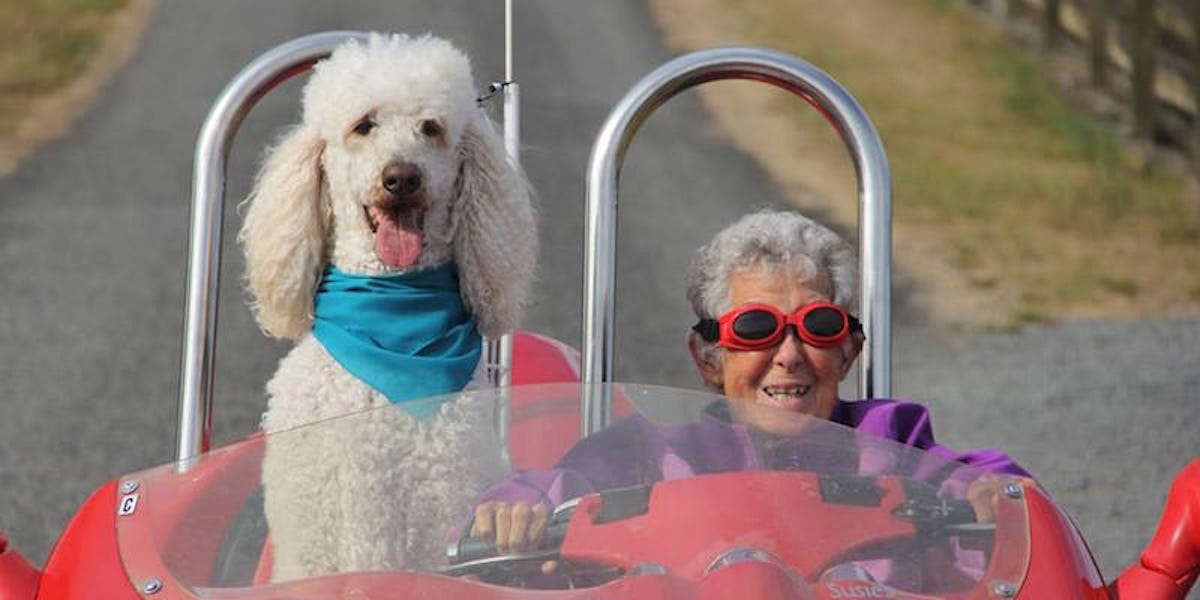 This Grandma Chose To Take An Epic Road Trip Instead Of Cancer Treatment
When doctors told 90-year-old Norma Jean Bauerschmidt she had terminal uterine cancer, she was faced with two choices: She could undergo a risky surgery and chemotherapy to fight the disease, or she could use her remaining time to live her life to the fullest.
Norma had just lost her husband, Leo, to cancer two days earlier, and she couldn't bear the thought of living at home without him.
So this Michigan-based grandma opted for an epic road trip over treatment, telling her doctors, "I'm hitting the road."
Norma's adventures all began in July of 2015 when she teamed up with her son, Tim, and his wife, Rami...
...as well as her faithful therapy dog, Ringo.
Together, they set off on the road trip of a lifetime.
Over the past year, they traveled more than 13,000 miles across 34 states...
...and Norma crossed all sorts of awesome things off of her bucket list.
She visited Yellowstone National Park...
Took in the spectacular sights at Mount Rushmore...
Stood at the edge of the Grand Canyon...
...and ventured underground to visit the Consolidated Gold Mine in Georgia.
Norma explored the deck of an aircraft carrier...
Made some adorable new friends in Georgia...
Cheered on the Atlanta Hawks at a basketball game...
Took part in a St. Patrick's Day parade in South Carolina...
Toured the coasts of New England...
Stopped by Colorado to sample some beers...
Hit up Florida to fulfill her dream of soaring through the sky in a hot air balloon...
...and made some truly magical memories at Disney World.
Norma's daughter-in-law, Ramie Liddle, created a Facebook page called "Driving Miss Norma" so her family could see all of Norma's exciting activities.
Since then, more than 440,000 people have also joined in on this cheerful grandma's adventures via Facebook.
Sadly, Norma was taken by the disease last week on September 30, 2016.
But boy, did Norma have one hell of an adventure up until then.
Ramie Liddle told BBC, "She had a very happy last year, and was a very simple woman who had never had any attention in her life. And that's the beauty of this story — she was just herself."
It's not hard to see Norma touched the lives of every single person she met along her journey...
...and this inspiring woman will certainly be missed by all who were lucky enough to know her.
Citations: Dying woman picks road trip over chemotherapy (BBC)