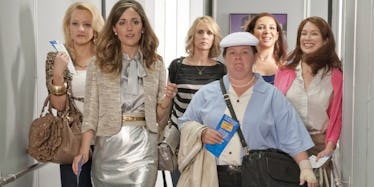 8 Clever Ways To Save Tons Of Money On A Destination Bachelorette Party
Universal Pictures
Modern bachelor and bachelorette parties have basically become synonymous with nights of wild parties, drunken debauchery and opportunities for a getaway. However, sun-soaked days and wild antics often come with a hefty price tag, which adds on to the expensive cost of a wedding.
The fear of spending too much money doesn't necessarily mean you and your friends are stuck celebrating in your hometown because with lots of planning and careful spending, the destination vacation isn't out of reach for brides and grooms-to-be on a budget.
#JulesBEACHelorette #BitchinB4TheHitchin #HastaLaVistaHough #TheFinalHoughrrah #TheLastFlingB4TheRing #BEACHeloretteWithMyBEACHES #JuliannesBeaches #17BeachesAndABaby #BeachCrew #KissThisMissGoodbye #WeDontLaichHimWeLoveHim A post shared by Nina Dobrev (@nina) on Mar 3, 2017 at 10:34am PST
I consulted with some industry experts, and learned these are the tips you need to help you save money on your dream destination bachelor party:
1. Travel during "shoulder season."
Traveling in the off-season is a great way to save on both international and domestic airfare. If your destination of choice involves a beach, it's likely to be more expensive from end of November to January and less expensive in the travel shoulder season.
Jamie Chang, Passport to Joy's destination wedding expert says,
You most likely won't have a say on the dates or location, but if you do, pick a time and a location that is off season. You'll have more options and more cost-effective ones for not only accommodations, but flights. If you're going international, pick a location that has a good exchange rate. Your money will just go farther.
Prime season for bachelor and bachelorette parties takes place between the spring and summer from April to July, but a bachelor party can happen any time prior to the wedding, which means coordinating everyone's schedule and finding out the most convenient, yet economic, time to go.
Megan Velez, Vice President of Destination Weddings Travel Group, said,
Remember- a bachelor/bachelorette celebration can take place any time before the wedding, so if it makes more sense to book it well ahead of the Big Day, it should be fine as long as all potential attendees have ample notice. Similarly, booking a mid-week trip, if possible, can be a cost-effective route as opposed to the weekend.
2. Call bars, restaurants and hotels in advance about your group.
Velez says,
If there are certain attractions, restaurants or bars that you have in mind for your destination bachelor or bachelorette party, call ahead to inquire about group deals. You may be surprised at the savings that come with celebrating a to-be- wed.
You're getting married, and these businesses want to celebrate with you, as well as enjoy the business from you and your group. It's not uncommon for bars, restaurants and hotels in bachelor and bachelorette party destinations to offer group discounts, or at least offer some perks.
3. Check your transportation options.
Is Uber available at your destination? How expensive are taxis, and how frequently would you use them? If your party intends on traveling a significant amount from place to place, taxis and ride-shares can add up to be a big expense.
Bachelor and bachelorette parties can save on transportation expenses while at the destination by renting a car – particularly at international destinations such as Mexico and the Caribbean, where renting a car or using Turo (essentially AirBnB for cars) is less expensive than in the United States when done in local currency.
4. Use sites like Airbnb or Innclusive.
Unless you're specifically looking for a doorman and room-service, chances are you'll end up overpaying for a hotel. Your money will be used more wisely and you'll get more space if you rent a house or apartment that can accommodate everyone, instead of trying to squeeze into a hotel room or book multiple suites.
Best of all, if you book a place near the party spots, you'll have the option of both kicking off and ending the party right at your "home," thanks to all the extra space.
5. Check Groupon and other all-inclusive deals.
While not always more cost effective for solo travelers or couples, all-inclusive deals for groups are a great way to enjoy an extended beach vacation or a cruise for one flat rate.
An all-inclusive deal can often not only come out as a better deal, but also a time-saving, stress-relieving way to just book and enjoy without planning all the details of a getaway.
6. Cook for yourself.
If you choose not to go the all-inclusive route, you're not out of budgeting options if you're willing to put on your chef hat and apron. Bachelor and bachelorette destinations can often be pricey for groups who choose to eat out for every meal.
While your group should venture out to try the local cuisine, you can save a lot of money just by going to the local market and buying ingredients for at-home use, especially if they're bought in local currency.
You could even turn your trip to the market into a group cooking lesson if you're social enough to ask a friendly local to teach you how to cook a local dish.
7. Start the party off at home.
Unless all food and drinks are included in your stay, alcohol could potentially make up a hefty part of your bachelor or bachelorette party budget.
Pay for less at the bars by heading into town and buying liquor and mixers from the store. Start the party before leaving the house-- it will give you and your friends an opportunity to try out your bartending skills, as well as avoid paying for drinks at each of the stops for the night.
8. Consider an alternative destination.
While some wedding parties may be adamant about certain locales, others are simply looking to have a fun experience away with their closest friends. If you're the latter and don't have your heart set on a particular destination, it's time to explore.
Use a tool like Google flights which lets you plug in your home airport, the anticipated dates of travel and allows you to "explore" destinations and compare airfare for different destinations. If you find Montego Bay, Jamaica is significantly more expensive to fly to than San Juan, Puerto Rico, for example, it might be in the best interest of the party to relocate.
To check out more wedding and bachelor party planning tips, visit destinationweddings.com, passporttojoy.com and similar sites to research, plan and execute a flawless bachelor or bachelorette party.