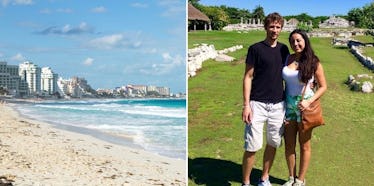 Couple Reveals Trick To Scoring Luxury Mexico Vacation For Under $1K
Lea Sarkisov/Shutterstock
Once the summer months hit, who doesn't have that insatiable appetite for a little r&r on the beach with a piña colada on hand? Sun, sand and a little booze  — it's the perfect combination for every millennial's dream vacation.
However, the one thing standing between most 20-somethings and paradise is the price tag. The whole pesky money thing is definitely the least exciting aspect of booking a vacation, but fear not, you adventurous Gen Yer.
If you've been bitten by the travel bug, there are budget-friendly ways to take that much-needed respite without draining your savings — and one couple is living proof of that.
Lea Sarkisov, a project coordinator at JLL, and her husband, Sergey, a doctoral student, managed to travel to Cancun for under $1,000, and this clever couple made it all happen with some unconventional methods. 
"Budgeting is our game as newlyweds," Sarkisov said. "We've been trying to figure out the balance between bills and satiating our wanderlust. Let's call this trip the Sarkisov Sojurn!" 
Rule #1: Beach vacations aren't reserved for the summer.
"We flew to Cancun when the beaches were pristine and empty, as was expected for the 'off season,'" Sarkisov said. 
October made the ideal time for the couple's vacation -- because let's face it: Who wants a bunch of people hogging the beach when you've got some serious relaxing to do?
"We prefer visiting beaches during those months because it's at the end of hurricane season and it's not cold, even though it's October," she added. "The sun is still bright and shining, and you avoid huge crowds (big plus). We were one of the only couples swimming in the turquoise sea — endless photo ops."
Never underestimate the power of the off-season for your wallet and Instagram game.
Rule #2: Go the all-inclusive route.
"For $993, we stayed at the luxurious all-inclusive Grand Oasis Sens for five days. Shwing!" Sarkisov joked. 
The accommodations came with complementary bubbly and scenic balconies, making for a delightful, pampering experience.
However, when the two weren't sitting poolside or enjoying the hotel's restaurants and bars, they did make the decision to book excursions (which they both agreed upon when budgeting).
"Sergey & I spent roughly $200 extra on one outside excursion called XelHa," she said. "It's an all-inclusive day oasis (round-trip transportation) with snorkeling, water activities, cycling, rafting, hammocks, manatees — all-around greatness."
If you're feeling the manatee-cycling-snorkeling adventures, take a look at possible excursions before booking your all-inclusive stay and budget accordingly.
Rule #3: Your vacation doesn't need to be a week.
Sarkisov and her husband managed to pack in relaxing at the beach, different excursions and a walk to the El Rey Ruins all within five days, proving not all vacations need to last a week to be fabulous.
In fact, the difference in a few nights could be what keeps your travels within your budget.
Rule #4: Keep your trip plans in the back of your mind each month.
The best way to figure out budget-friendly options is to start early. Sarkisov claims booking ahead is the perfect way to cut corners.
Likewise, Heather Cross, travel agent who runs Vacations By Heather, said,
Come up with a realistic amount that you can put toward your trip each month and that will help you set a budget for the trip. By booking your trip in advance, you have a longer window to save both for advance expenses, such as airfare and hotels, but also to set aside funds so you have enough to pay for shopping, food and entertainment.
Rule #5: Don't get suckered into the gimmicks.
As tempting as those magnets and notepads look, do you really need six of them from Cancun?
"Conserve your cash for tips," Sarkisov warned. "[And] don't buy anything at the airport — ever."