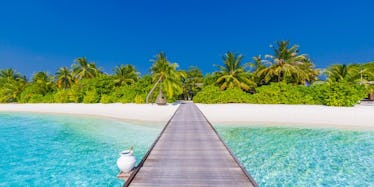 Company Will Pay You $10K A Month To Travel The World And Become Insta-Famous
Shutterstock
Becoming Insta-famous looks really, really hard to do. (I mean, unless you were born a Kardashian or something, in which case, the Insta-famous life is all you've ever known.)
But for us lowly plebs, it seems virtually unachievable -- unless, of course, you can find a job that pretty much pays you to be Insta-famous.
Being famous on social media may not be the number one job requirement for this amazing three-month contract position with THIRDHOME, but it's certainly up there on the list of skills you should have.
The luxury vacation home company is currently looking at applicants for a job that requires the person to travel all over the world for three months, while intermittently staying at several different multi-million dollar homes.
THIRDHOME Founder and CEO Wade Shealy told Elite Daily,
As the leading member-only travel club for the luxury vacation homeowner, the ideal THIRDHOME candidate will be a luxury connoisseur with strong storytelling skills and, of course, a passion for travel.
The contracted position will pay you $10,000 a month and cover all of your travel expenses.
This could be your living room if you find yourself at one of their homes in Australia.
Or you could have this pool at your fingertips in Hawaii.
Can you imagine eating breakfast with this view every morning?
If hired, all you have to do is enjoy your travels and share your experiences throughout the three months over social media.
According to the job listing posted on Facebook, the perfect candidate should know a thing or two about the hospitality industry, have an affinity for all things fancy and luxurious and have some experience in social media, blogging and vlogging.
And, of course, you have to be willing to travel internationally for a period of three months.
Even though the position is temporary, THIRDHOME's Founder and CEO is confident the skills you'd learn on the job are invaluable for any future career move.
Shealy said,
Through this position, one will develop enhanced communication and marketing skills, strengthen cultural awareness and adaptability and learn to overcome obstacles independently.
To apply, THIRDHOME is asking candidates to send a one-minute video explaining why they are the best person for the position by March 30.
Good luck, future Insta stars!
Citations: Best Job On The Planet (Facebook)