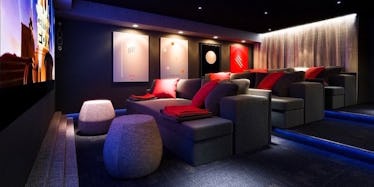 These Pics Of Ridiculous UK College Homes Will Make You Want To Study Abroad
www.mystudenthalls.com
If I remember correctly, college dorm rooms on my campus were anything but glamorous.
In fact, they were cramped, kind of smelly and really, really dusty. The shower pressure was below par, the walls were paper-thin and there was always a mysterious stain or two on the hallway rugs.
Oh... did I mention my roommate and I shared a bedroom the size of a walk-in closet? That was fun.
It was "home," though, and we always made the best of our tiny living situation.
At the time, I thought my small, shared bedroom and dirty dorm building were normal things for college kids across the world.
Apparently, I was wrong. I was very wrong.
A site called My Student Halls recently found the most luxurious dorm rooms across the UK, and they'll make you rethink how "awesome" your college experience really is (or, was).
True Glasgow West End, a dorm room in Glasgow, Scotland, has a slide inside the common area. It's pretty much a McDonald's playground for adults.
Eclipse, a dorm room in Cardiff, Wales, has a dining room fit for royalty. Could you imagine sipping on ramen noodles at a table like that?!
Eclipse even has its own club, so you can can forget about hailing a taxi to the closest bar for the night. This place looks INSANE.
Woodside House in Glasgow, Scotland, has a rustic, yet chic dining room that's nicer than any resort getaway I've been to in my entire life.
ViBe Student Living by CRM Students in Kingston-upon-Thames has its own movie theater. Could you imagine the dates you could have here?!
This dorm common area in London literally looks like London, "tube couches" and all.
Glasgow is winning the whole "dorm room contest" because one of the dorms inside the city has a room that'll make you think you're lounging outside on a warm summer day -- lawn chairs and all.
Inside the Metropolitan College Building at John Bell House in Belfast, you'll be able to study amongst gigantic stained-glass windows. It's gorgeous.
Last, but not least, my favorite: The piano room at Nova in Nottingham, England. I could probably sit in there for hours.
Well, there you have it.
While you're sitting in your cramped college bedroom heating up Easy Mac in your microwave, try not to think about the glamorous dorm rooms that you're sadly missing out on.
Either that, or apply to study abroad.
Citations: My Student Halls