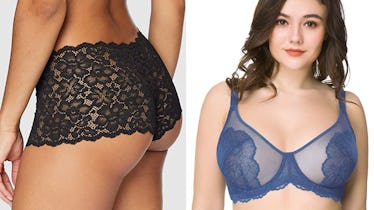 These Comfy Bras & Underwear Have Fanatical Amazon Reviews Because They're So Freaking Sexy
Reviewers agree: This lingerie is comfy and hot
We may receive a portion of sales if you purchase a product through a link in this article.
Just about everyone knows that finding lingerie that's both cute and comfortable is like finding gold. Sure, something can have lace and enticing cutouts but will it itch and dig into the skin too? That's oftentimes the case but not when it comes to these Amazon gems.
With thousands of rave reviews, these tantalizing bras and underwear are clearly an exception. Their designs and silhouettes make customers feel confident, while their soft fabrics and adjustable straps give them the support they need as well.
If you still think it's too good to be true, scroll below and be prepared to be blown away.