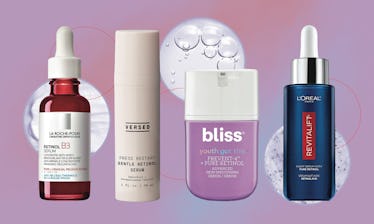 The Best Drugstore Retinols, According To A Derm
We only recommend products we love and that we think you will, too. We may receive a portion of sales from products purchased from this article, which was written by our Commerce team.
Elite Daily/Amazon
"Not all Retinols are made equal!" dermatologist Azadeh Shirazi tells Elite Daily — and that especially applies to drugstore retinols. "Retinoid is the umbrella term for the class of molecules that bind to retinoic acid receptors. Retinols are a less potent type of retinoids — the latter being a prescription," says Dr. Shirazi, who adds that the "active form of vitamin A is retinoic acid." When it comes to shopping for the best drugstore retinols, "The percentage of retinol is important to determine if the product will actually deliver all the goodness and magic that vitamin A has to offer. Studies show prescription-strength retinoic acid is 10 times stronger than retinols, so it's best to at least start with a 0.25 to 0.5% retinol [over the counter] to see results," the dermatologist explains.
What types of retinol are available over the counter?
There are other things to consider aside from the percentage, such as the type of retinol being used in an over-the-counter product. "Retinyl palmitate is the weakest since it has to undergo the most steps in converting to retinoid acid, with retinol being the second most effective after retinal. The latest skin care MVP is retinal (retinaldehyde) because it delivers the same [benefits] as retinol but in a faster (up to 11 times) and more efficient way," shares Dr. Shirazi, who says that retinal is the most effective form of retinol available without a prescription. There's also adapalene, which is "a synthetic retinoid derived from napthoic acid that does not need to be converted to retinoic acid before it becomes active." Dr. Shirazi says that adapalene is better known for treating acne than other types of retinols, which are known for their abilities to stimulate collagen and elastin production, and promote generally smoother, firmer skin.
What other ingredients pair well with retinol?
"Ingredients that work well with retinols are niacinamide to help reduce inflammation and [calm skin], hyaluronic acid, and vitamin C to formulate a more comprehensive product. I also find formulations with bakuchiol to be more potent as the star antioxidant further improves skin texture, yet reduces inflammation and irritation," explains Dr. Shirazi.
What ingredients should you avoid when using retinol?
"Exfoliating Acids often combined with retinol can be irritating, so I suggest skipping the retinol the night you use your exfoliant," says Dr. Shirazi, whether that's an AHA or BHA product.
How to use retinol:
According to Dr. Shirazi, these are the top tips for incorporating retinol into your skin care routine — safely.
"Start low and go slow. Start with a lower potent form with applications every other night before gradually working your way up to nightly."
"Use [a retinol that comes] in a measured pump [bottle] to avoid applying too much. If you have a prescription or one that comes in a tube, use a pea size amount for the entire face."
"Apply your retinoid from the outside in, meaning start on the outer cheeks and move towards the central face, as the area around the nose and mouth is most prone to irritation."
"Wait 20 [minutes] after cleansing before applying your retinol, particularly when you're starting out."
"Apply an ointment such as Vaseline or Aquaphor to your lips and eyes to protect this delicate skin from irritation before applying your retinol."
"If you have sensitive skin, cleanse and moisturize earlier in the evening and apply your retinol on its own later on closer to bedtime after you brush your teeth."
What are the best drugstore retinols?
1. Best For Sensitive Skin: CeraVe Skin Renewing Retinol Serum
2. Best Retinol Capsules: RoC Retinol Correxion Line Smoothing Night Serum Capsules
3. Best For Acne: Differin Adapalene Gel 0.1%
4. Best French Drugstore Retinol: La Roche-Posay B3 Retinol Serum
5. Best Drugstore Eye Cream With Retinol: Neutrogena Rapid Wrinkle Repair Eye Cream
Expert:
Dr. Azadeh Shirazi, board-certified dermatologist
This article was originally published on