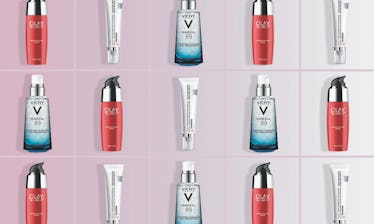 The Best Serums To Use With A Derma Roller
We only recommend products we love and that we think you will, too. We may receive a portion of sales from products purchased from this article, which was written by our Commerce team.
Elite Daily/Amazon
If you use (or are interested in using) a derma roller, that means you're ready to completely overhaul your skin. These at-home devices, which work by stimulating your skin to regenerate itself, are like a lighter version of the in-office tools dermatologists use, and can help even out skin tone, fade unwanted scarring, and brighten your overall complexion. But the derma roller that you choose is only one half of the equation. The other half is finding the best serum to use with your derma roller. Since the derma roller is literally creating micro-tears in your skin, thereby pushing the product you use with it deeper into your skin (and supercharging its effects), it's imperative that the serum you use before and during your rolling session is in line with the results you're hoping to achieve.
What Serum To Use With Microneedling
As mentioned above, applying a serum in tandem with your derma roller fast-tracks the serum's already-potent effects. (A serum also gives the derma roller better slip, so it'll glide smoothly and evenly against your skin.) So, put simply, you can use any serum whose targeted effects you can most benefit from. A hyaluronic acid serum is a failsafe choice, since it's compatible with all skin types, but it's especially ideal for dry or dehydrated skin. If you're looking to brighten your complexion or fade hyperpigmentation, a vitamin C serum would be a great choice. If you're hoping to promote firmer skin, a serum with strengthening amino acids will work beautifully.
Keep in mind that microneedling is creating (painless and tiny) micro-tears in your skin, so make sure you're looking closely at the label for ingredients that might be irritating, even if your skin doesn't tend to be sensitive. Some dermatologists advise against using serums with chemical exfoliants in tandem with a derma roller for that same reason — they can simply be too harsh in this setting. I've included a relatively gentle AHA/BHA serum on this list, but it's really only advised for people whose skin is very tolerant to exfoliants.
Once you've chosen your serum, make sure you're applying plenty of it to your face before rolling, adding more as you go if needed. Then, massage slightly more into your skin once you're done before putting on your moisturizer. Derma rolling should be done at night, since it makes your skin more photo-sensitive, and also because nighttime is when your skin does the most regenerating.
Ahead, you'll find the best serums to use with a derma roller. Find the skin concern that matches yours, and go from there.
This article was originally published on