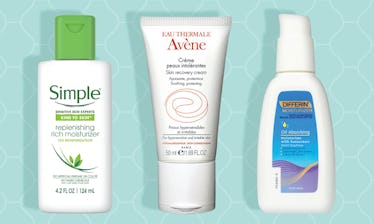 The Best Moisturizers To Use With Retin-A Cream
We only recommend products we love and that we think you will, too. We may receive a portion of sales from products purchased from this article, which was written by our Commerce team.
Elite Daily/Amazon
Sometimes, things have to get worse before they can get better, like is the case when you start using a Retin-A. The prescription-only cream works much faster than its fellow vitamin A derivative, over-the-counter retinol, and typically comes with a few unpleasant side effects while your skin adjusts. "Retinoids can initially cause a process called retinization, which is redness, dryness, and flaking," says Dr. Melissa Kanchanapoomi Levin, dermatologist and founder of Entière Dermatology. To help keep your skin smooth and flake-free, you'll want to arm yourself with one of the the best moisturizers to use with a Retin-A cream, and some tips from Dr. Levin.
How often should you apply Retin-A?
Before you even get to choosing your moisturizer, it's important that you're using your prescription Retin-A cream correctly for the best results. Dr. Levin suggest starting by applying your retinoid every third night. "If your skin isn't irritated after two weeks, increase to every other night for another two weeks," she says. Following this format, you can work your way up to applying your retinoid every night. But be cautious: "A small percentage of patients are super sensitive and sometimes have a very difficult time tolerating a retinoid," Dr. Levin notes, adding, "If you are pregnant or breastfeeding, you should avoid retinols and retinoids altogether."
How to use Retin-A:
To help ease any initial irritation, Dr. Levin recommends always applying your Retin-A with a moisturizer. "Apply a pea-size amount of the retinoid first, wait a few minutes, and then apply a moisturizer to combat any dryness or flaking."
What are the best moisturizers to use with Retin-A?
Instead of opting for a fancy night cream, Dr. Levin stresses that gentle moisturizers (along with a gentle cleanser to round out your skin-care routine) are preferred. Dr. Levin lists glycerin, oat kernel extract, bisabolol, ceramides, and antioxidants like coenzyme Q10 as some of her favorite ingredients to hydrate and soothe skin while using a Retin-A.
You'll also want to avoid using other harsh, treatment-based products in your routine. "Ingredients like benzoyl peroxide and alpha hydroxy acids can deactivate certain retinoids, so be careful with layering product and make sure to discuss your routine with your dermatologist," she says.
And don't forget your SPF! Whether you're using a Retin-A cream or an over-the-counter retinol, your skin will become more sensitive to the sun (yes, even though you're applying the Retin-A at night). Since you don't want to undo your Retin-A's hard work with sunburn, it's important you apply sunscreen every morning.
This article was originally published on