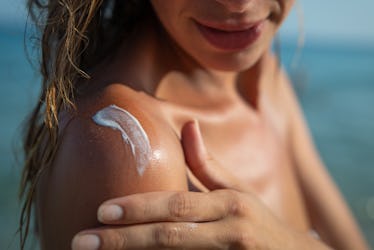 4 Great Sunscreens That Actually Help You Tan
We only recommend products we love and that we think you will, too. We may receive a portion of sales from products purchased from this article, which was written by our Commerce team.
HQuality / Shutterstock
Sunscreen is a staple no matter what time of year it is, because sun protection is paramount to your skin's health. But while you're protecting yourself from burning, you may still desire a bronze-y glow. Getting a tan is still something a lot of people go outdoors for. And if you're one of those people, you're probably looking for the best sunscreens for tanning — SPFs with numbers that are high enough to protect you from the sun but low enough that you can still get some color.
The Risk Factor To Keep In Mind — & How To Be Safer In The Sun
That said, there's something important to keep in mind. Even if you don't get a sunburn, tanning is still considered a form of skin damage. That's why dermatologists recommend spending time in the shade and wearing a sunscreen with a high SPF as often as possible. Any coloring of your skin by the sun puts you at risk for skin cancer, whether you turn red or brown.
A few tips? Look for a sunscreen with high SPF that pairs with a browning lotion. Or find one that applies in oil-form. Just ensure the lowest SPF you're reaching for is 15 — those oils with SPFs of 5 or 8 are dangerous, and offer basically no protection.
If tan skin is still something you're aiming for, scroll on. We've rounded up the best sunscreens for tanning that you can shop right now. Just remember: The SPF in these sunscreens is lower, so they require regular reapplication. Have (safe!) fun in the sun, and your skin will thank you.
Shop The Best Sunscreens For Tanning
In a hurry? Here are the best sunscreens for tanning.
1. A Great Sunscreen/Browning Lotion Combo: Sun Bum Browning Lotion And Tanning Oil With Aloe Vera
2. A Tan-Accelerating Dry Oil With SPF 50: YOUTH LAB. Dry Touch Tanning Oil Body Spray — SPF 50
3. An Oil-Free Sunscreen That Also Contains An Instant Bronzer: Australian Gold Continuous Spray Sunscreen With Instant Bronzer SPF 30
4. A Lightweight Milk That's Formulated For Tanning: Lancaster Sun Beauty Melting Tanning Milk
This article was originally published on