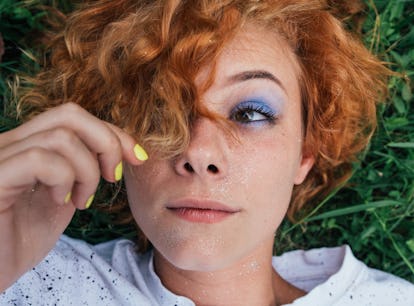 How To Get Rid Of Dry And Itchy Scalp, According To Dermatologists
Add to cart for fast relief.
Getty Images
Dry, itchy scalp is basically the worst. It's second only to dandruff when it comes to neck-up skin care discomfort, in my humble opinion. Unlike a breakout, you can't slap a pimple patch on an itchy scalp, and there's no makeup out there — yet! — that can conceal a flaky scalp. Luckily, when it comes to how to get rid of itchy scalp, there are some dermatologist-approved solutions.
While there's no fool-proof way to get rid of dandruff fast, there are ways to minimize dandruff, itchy scalp, and dry scalp, says dermatologist Dr. Daniel Sugai, a TikTok sensation and scalp care expert. "Many people don't know this, but dandruff is actually a predisposition we are born with in our DNA," he tells Elite Daily, "and not because of lack of hygiene! Dandruff is caused by a pesky yeast called Malassezia, which everyone has on their scalp."
Dealing with Malassezia is best done with a small group of effective ingredients. Dr. Sugai specifically recommends checking labels for zinc pyrithione and selenium sulfide. "The best and most effective way to treat dandruff is with continued use of an anti-dandruff shampoo and conditioner," he says. Unfortunately, there's no permanent cure "as this is a chronic condition that waxes and wanes," but there are products out there that can offer quick relief from the symptoms of dandruff.
Beyond the tried and true zinc pyrithione and selenium sulfide, which work best for dandruff, there are a number of other ingredients that can help soothe an itchy or dry scalp, according to Gretchen Firese, a certified trichologist. "Tea tree oil is great for soothing an itchy scalp," Firese says. "You can also do an apple cider rinse." She also recommends keeping the scalp hydrated with natural ingredients like aloe vera and olive oil.
The following 14 shampoos, conditioners, scrubs, and serums are all top-rated products, and according to dermatologists, they contain ingredients that should offer you some serious relief.
We at Elite Daily only include products that have been independently selected by our editors. We may receive a portion of sales if you purchase a product through a link in this article.
Experts Cited:
Dr. Daniel Sugai, MD, FAAD, board-certified dermatologist
Gretchen Firese, certified trichologist and salon director