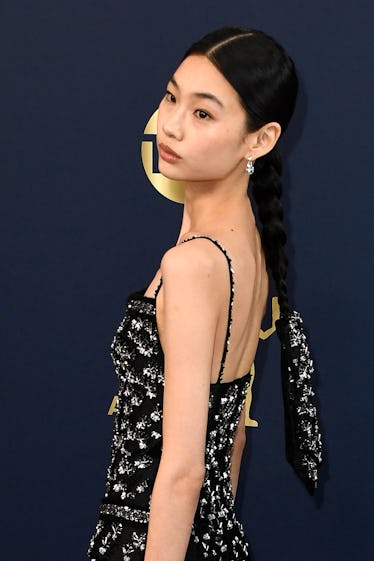 HoYeon Jung's SAG Awards Hairstyle Is So Meaningful To Her Korean Culture
The Squid Game star's hairstylist even got emotional behind the scenes.
HoYeon Jung has impeccable taste, and her ribbon-adorned hairstyle at the 2022 SAG Awards was no exception. The 27-year-old nabbed the prize for Outstanding Performance by a Female Actor in a Drama Series for her role in Netflix's Squid Game, wearing a braid that not only gave fans major hair envy, but it also held a secret, deep meaning that paid respect to her South Korean heritage.
The elegant style — created by celebrity hairstylist Jenny Cho — was a bit of a collab between Cho, centuries of Korean tradition, and Louis Vuitton, thanks to its focal point: a beautifully embroidered hair ribbon referred to as "daenggi," a traditional hair tie women in Jung's home country of South Korea have been wearing for generations. The daenggi in Jung's hair at Sunday's SAG Awards was decorated with traditional Korean embroidery work that caught the light as Jung tearfully accepted the big prize.
According to Cho, the supermodel turned award-winning actress wasn't the only one getting choked up that night. The stylist also felt "very emotional" as she created Jung's hair look due to the deep meaning behind the daenggi featured in Jung's sleek braid, calling the event "a very special SAG Awards day to have been a part of."
Cho found the traditional embroidery work on Jung's matching dress "so on point to the motherland of Korea," yet equally modern and cool. In keeping with this blend of tradition and modernity, Cho shares that she drew inspiration from traditional Korean braids when crafting Jung's 'do. The meaning behind the daenggi was also poignant for Cho, who called the whole styling experience "one of the most special glam moment[s] to remember."
To achieve the elegant and meaningful style, Cho gave Jung a blowout, followed by a pass with a flat-iron to keep things ultra sleek. She parted Jung's hair down the center and gathered it into a loose ponytail, about three fingers up from the nape of the neck to inject a little modernity into the low placement of traditional braids. Cho also used hair oil to keep things glossy and went over the look with the GHD Narrow Dressing Brush to distribute the oil and increase shine.
Considering Squid Game is the first non-English-language series to be nominated for the top categories at the SAG Awards, and Jung is the first person of Asian descent to win lead actress in a drama series, Jung being able to represent her culture through her look was the cherry on top of an historic evening.